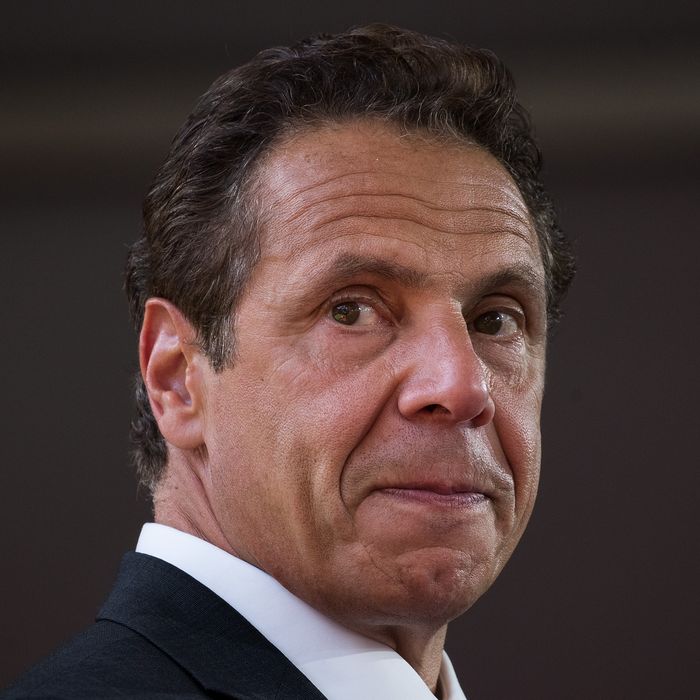 What about his aide's emails?
Photo: Drew Angerer/Getty Images
When yet another controversy emerged last weekend in the Democratic primary battle between Andrew Cuomo and Cynthia Nixon, the New York governor was adamant that he had nothing to do with a mailer sent by the New York Democratic Party that misrepresented his opponent's views on Israel and accused her of ignoring anti-Semitism.
"I didn't know about the mailer; I heard about the mailer, I haven't seen the mailer," Cuomo said at a press conference on Sunday. "The way I ran this campaign, it's been on the issues, it's been positive. I think the mailer was a mistake. I think it was inappropriate."
Cuomo and the New York Democratic Party have acknowledged that the mailer — which went to 7,000 households and cost about $11,000 — was wrong. But many were skeptical that the party could have sent out the mailer without Cuomo's approval, and on Tuesday the New York Post presented what it described as a "smoking-gun email" that casts further doubt on Cuomo's account.
The Post reports that on Friday afternoon one of Cuomo's top campaign aides, who the paper does not name, sent an email pitching a story about Nixon's alleged support for the pro-Palestinian Boycott, Divestment, Sanctions movement:
"Nixon has supported insidious BDS campaign, signing onto letter boycotting Israel," it says.




"Obviously something you guys have reported on a lot and right before the jewish high holidays!




"Can get you folks on the record slamming her as well," the aide added.




The email also included excerpts of news reports from 2010, detailing how Nixon was among about 200 American celebrities — including many Jews — who signed a letter supporting a boycott by Israeli actors, directors and playwrights of a new theater in Ariel, one of Israel's largest Jewish settlements in the West Bank.
The Post reports that the campaign official also sent a reporter several texts urging them to cover the story. "Hey I got something for you on nixon….I'm going to email to you. But not from me," the texts said.
The Cuomo campaign's press secretary, Abbey Collins, denied that the emails and texts are evidence that the governor was behind the mailer.
"The off the record email forwarded to the New York Post contained published articles and publicly available information on Cynthia Nixon's positions on issues concerning Israel sent for the Post's information — those articles have nothing to do with the wrong and inappropriate mail piece that went out and shouldn't have," Collins told the Post.
"It is apples and oranges, and to disclose an off the record exchange that had been agreed to by the New York Post is a violation of journalistic ethics," Collins added.
The New York Times notes that neither Cuomo nor the state Democratic Party have offered details on how exactly it wound up accusing Nixon — who is raising two Jewish children — of being anti-Semitic days before Thursday's primary.
"As we have said this mailer was a mistake and completely inappropriate," the party's executive director, Geoff Berman, said in a statement. "The party does not discuss internal processes but we take this matter very seriously and are putting rigorous controls in place to ensure it never happens again."
The Cuomo campaign offered a few new details on Tuesday, saying the flier was created by "an individual helping the campaign on constituency outreach."
"In the future, constituency representatives will not be allowed to draft or participate in the mail program," Collins said in a statement. "Moving forward, the state party executive director and lawyer must sign off on each piece."
The campaign did not respond to further questions from the Times about the role constituency representatives play in the party organization.
While the state party offered to make up for the blunder by sending out a mailer of Nixon's choosing, she scoffed at the idea during an interview on WNYC's Brian Lehrer Show on Tuesday, saying it wouldn't arrive before the primary. Nixon said she still wants more information about what she calls a "smear campaign."
"This was not a mistake, this is not like a typo," Nixon said. "A lot of people were involved in concocting this and executing it and approving it. And we need better answers."
Though Cuomo has been acting like an incumbent worried he's about to be swept out of office in a progressive wave, that seems unlikely, even in light of last-minute disputes over the mailer and the opening of the Mario M. Cuomo Bridge. In a poll released Monday, Cuomo had a 41-point lead over Nixon.