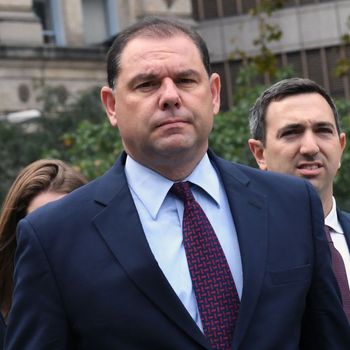 Percoco was like a "brother" to Governor Cuomo.
Photo: Louis Lanzano/Bloomberg via Getty Images
Joseph Percoco, a former aide and top "enforcer" for Andrew Cuomo, was sentenced Thursday to six years in prison for taking more than $300,000 in bribes from companies seeking favorable treatment in Albany.
The bribes largely came from two businesses. Competitive Power Ventures, an energy firm that wanted to build in the Hudson Valley, gave Percoco's wife a "low-show" job that paid her $7,500 a month to teach school kids about energy. In exchange, Percoco helped the company save $1.5 million with energy credits. Percoco's wife also received $35,000 from Cor Development for her husband to perform a range of favors in his role as Cuomo's executive deputy secretary.
Lobbyist Todd Howe, who has pleaded guilty to eight felonies related to corruption, helped set up these deals for Percoco. He also served as the prosecution's star witness in the case. During the trial, Howe told the jury that he and Percoco referred to bribes as "ziti." He said it was a reference to The Sopranos.
Percoco's six year sentence exceeds the five years recommended by the court's probation office, which was something prosecutors pushed for. "Recent prosecutions and trials in this district have laid bare the ugly truth that, too often, political power and responsibility in New York leads to political corruption," prosecutors told the judge.
Percoco, who Cuomo has described as like a "brother," apologized to the court for his crimes Thursday. "I live with the consequences every single day of my life," he said. "I lie awake every night thinking of the things I could have done differently."