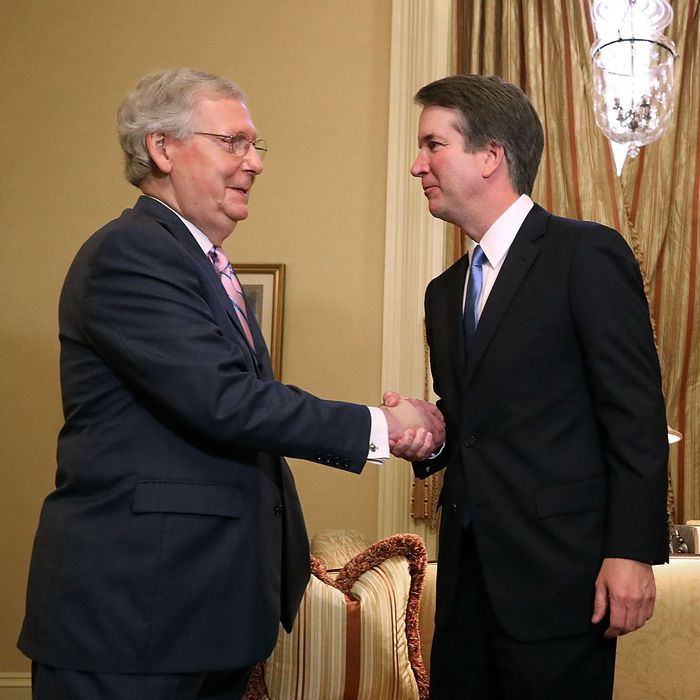 Mitch McConnell and Brett Kavanaugh back when the latter's Senate confirmation looked pretty easy.
Photo: Chip Somodevilla/Getty Images
When Supreme Court justice Anthony Kennedy announced his retirement in late June, it looked like getting a successor nominated and confirmed by the beginning of the next Court term (and before the midterm elections) involved a tight but manageable schedule if everything went as planned.
The White House certainly contributed to a brisk process by naming Brett Kavanaugh its nominee just 12 days after Kennedy stepped down, utilizing Trump's famous pre-vetted list of prospects. With Senate Majority Leader Mitch McConnell having already canceled the Senate's August recess, there appeared to be time for hearings and a Judiciary Committee vote in September quickly followed by a party-line vote in the full Senate. But Kavanaugh's very lengthy record in the Executive and Judicial branches and considerable Republican stonewalling over document production and review made it easy for Democrats to credibly charge the process was being rushed. And now the allegations that Kavanaugh committed sexual assault in high school are creating a lot of potentially major timing issues.
It's a good time to review the timetable of deadlines coming up:
1) September 20: Senate Judiciary Committee Vote: This deadline is already all but blown now that multiple senators (including at least two Republicans, Susan Collins and Jeff Flake) are calling for testimony under oath by Kavanaugh's accuser, Christine Blasey Ford, and the nominee himself, concerning the new allegations. If the testimony (sure to be a TV/social-media spectacular) produces no new information between Ford's allegations and Kavanaugh's denials, then the committee could proceed quickly to a vote. But this is the first of what could become many moments where one dissenting Republican senator defecting from the party line could throw sand into the wheels of the confirmation machine, and two could kill the nomination altogether. So Republicans will have to make scheduling decisions one step at a time, no matter how impatient they — or Donald Trump — might be.
2) October 1: The Supreme Court begins its next term: The ostensible reason for moving right along with Kavanaugh's nomination and confirmation was to make sure the Supreme Court had its full complement of nine Justices when its next term begins on October 1. Justice Kennedy is on "senior status," and is still available for part-time duty on lower federal courts, but he's gone for good from SCOTUS.
If no one has been confirmed by October 1, which is beginning to look more and more likely, then the Court will convene with just eight justices, and more importantly, with the conservative and liberal "blocs" on the Court deadlocked with four justices each. Yes, a subsequently confirmed justice can ascend to the bench the moment she or he is cleared by the Senate. But the new justice will typically not vote on cases in which oral arguments were heard in their absence. So the longer the ninth justice is missing, the more it affects the Court's work. The period between Justice Antonin Scalia's death in February of 2016 and Justice Neil Gorsuch's confirmation in April of 2017 shows how this can be a significant issue in big cases that expose divisions on the Court.
3) Late October: The Senate breaks to campaign: There is no set deadline for the Senate to break for last-minute campaigning prior to the midterms, and until recently, it was thought that keeping senators in Washington would be a much bigger problem for Republicans, given the larger number of vulnerable Democrats in the chamber. But the Senate landscape is now beginning to look less bright red than it did earlier in the year, and you have to figure that Republicans Dean Heller and Ted Cruz are as avid to spend time at home as Democrats Heidi Heitkamp or Joe Donnelly.
Thanks to the GOP's invocation of the "nuclear option" in 2017 to ban filibusters prior to Supreme Court confirmation votes, it won't take more than a week for the full Senate to vote on Kavanaugh assuming he clears the Judiciary Committee — though again, the timetable could be thrown off if there are doubts about as few as two Republican senators.
Mid-October is also about the time when Republicans will have to decide whether the Senate will have enough time to consider an alternative to Kavanaugh before the end of this Congress. And that's a big, big decision given the possibility that Democrats could take control of the Senate and thus the judicial confirmation process in the next Congress that will be sworn in on January 20. So if Kavanaugh's confirmation is still hanging fire two or three weeks from now, there could be a move to dump him and move on quickly with someone else from Trump's pre-vetted SCOTUS list (a good bet at that point would be a woman like Amy Coney Barrett).
4) November 6: The midterms arrive: One thing the new allegations against Kavanaugh might possibly mean is that his confirmation — or alternatively, the confirmation of someone else if his nomination is withdrawn — could become a campaign issue in close Senate races, or at least a factor stimulating turnout among each party's more ideological "base." But whether or not that happens, the Senate results on November 6 will determine if Donald Trump's party still controls the judicial nominating process during the last half of his presidential term. Thanks to a wildly pro-Republican Senate landscape this year, the odds remain better than average that the GOP will maintain its grip on the upper chamber, even if a Democratic "wave" takes over the House. But with a current margin of 51/49 in the Senate, Republicans are justifiably nervous. And the House results could indirectly affect the SCOTUS process as well, if only because a big Democratic wave might make Senate Republicans even more nervous about 2020, while threatening Trump's grip on power.
5) November 2018 to January: A likely lame-duck session of Congress. If, as appears almost certain, Democrats make significant gains in the House, then Republicans are likely to convene a so-called "lame-duck session" of the current Congress to get as much done as they can with their current margins of control. If Kavanaugh is not confirmed by November 6 and Democrats win back the Senate, then there will most definitely be a frenzied Republican effort to confirm him or some other Trump SCOTUS during the lame-duck session.
Would there be enough time for that to happen? Yes, if we are talking about Kavanaugh, who was nominated in July. But if the whole process is starting over — say, with Amy Coney Barrett — just before or immediately after the midterms, it could be very tight. Among current justices, Ginsburg was confirmed just 50 days after her nomination; Gorsuch and Sotomayor took 66 days, and the others (other than Roberts, who was nominated for one spot and then renominated for the chief justice position) longer than that. Republicans would have to factor in the political damage associated with ramming through a nominee on (probably) a party-line vote after an electoral setback, but given the enormous stakes involved, it would be astonishing if they did not pursue it. They have already incurred and brushed off the obvious charge of hypocrisy for their refusal to give Obama nominee Merrick Garland a hearing or a vote during the long period after Antonin Scalia's death.
6) January 3: 116th Congress sworn in: Supreme Court nominations do not "roll over" between Congresses, so early next January all bets are off. If Republicans still control the Senate and Anthony Kennedy's seat on the Court has not yet been filled, then the president can renominate Kavanaugh (or an alternative if one has been nominated but not yet confirmed) and we are all back to square one.
If Democrats control the Senate, of course, it is a whole new ball game. The opposition party would be in charge of scheduling confirmation hearings and votes for SCOTUS and every other federal judgeship, and Democrats would have a far better chance of forcing their way into a share of the vetting and selection process than Republicans would have picking off Democratic senators for a hard-line conservative choice. At the same time, Trump (assuming he is still the president and is still running for reelection) would be under enormous pressure to do everything within his power to reshape the Court in 2019 and 2021; it is central to his bond with the Christian right and with conservative ideologues generally.
All in all, the landscape for nominating and confirming Supreme Court justices may not get much easier for Trump and his party, and it could get a whole lot worse. And the clock continues to tick.