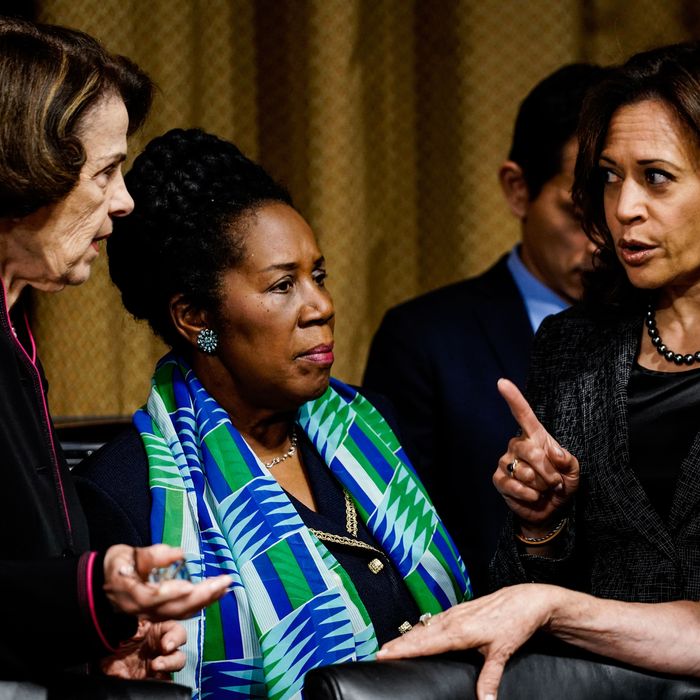 So far the questioning of Christine Blasey Ford has shown Democrats illustrating sympathy for the witness, while Republicans look like they are hiding from her.
Photo: Pool/Getty Images
A lot of Democrats, in California and elsewhere, have had issues with Senator Dianne Feinstein's lofty position in the Senate and as ranking minority member of the Judiciary Committee. But they are very fortunate today that she is where she is, because the senator was able to set the tone for her party's handling of the hearing on Christine Blasey Ford's sexual-assault allegation against Supreme Court nominee Brett Kavanaugh at the very beginning.
After Judiciary Committee chairman Chuck Grassley began the hearing with a petulant series of complaints about Ford's allegations coming to light relatively late in the process, Feinstein deftly turned GOP treatment of the accuser into an illustration of historic male insensitivity to victims of sexual assault:
Ford's visibly terrified visage, shown in split screen on many networks as Grassley and Feinstein spoke, quite literally illustrated the fundamental point her senator was making. But this wasn't the only example of Feinstein quickly turning the tables on Republicans:
This was a quick reminder that Republicans have refused to accept an FBI investigation of the allegations, or even call other witnesses before the committee — both those that were germane to Ford's testimony (like Mark Judge), and others like Kavanaugh accusers Debbie Ramirez and Julie Swetnick. In that context, Grassley's whining about Feinstein's handling of the Ford letter seemed both ridiculous and insensitive.
Feinstein's own questioning of Ford reinforced the impression of Democrats expressing sympathy for Ford and quiet indignation against her Republican tormenters. The senator got right to the key point of how Ford knows it was Kavanaugh who assaulted her:
The contrast between Feinstein's questioning, and the image of 11 Republican men who had an obscure prosecutor interrogate Ford because they weren't sure they could control themselves, was really powerful.
Other Judiciary Committee Democrats appeared to be following Feinstein's lead. Pat Leahy, who often seemed like a crotchety old man in his previous questioning of Kavanaugh, came off as a protective grandfather when speaking to Ford. And he was able to challenge Grassley directly with the shame of the Judiciary Committee's handling of Anita Hill back in 1991, in which both of these men participated.
And Dick Durbin continued the theme of Ford's being the victim not just of Kavanaugh in 1982, but of Republicans attacking her currently.
Trapped by the strange procedure they have adopted for questioning Ford, and ceding the airwaves to Democrats, Judiciary Committee Republicans are stumbling badly so far. And this time around, Democratic complaints about the GOP's rush to confirm Kavanaugh have the resonant feeling of righteous lawmakers seeking to provide justice to the aggrieved, not just wrangling over paperwork and deadlines. Turns out, it matters that Judiciary Committee Republicans had no women in their own ranks to interrogate Ford, while Democrats had several, including Feinstein.