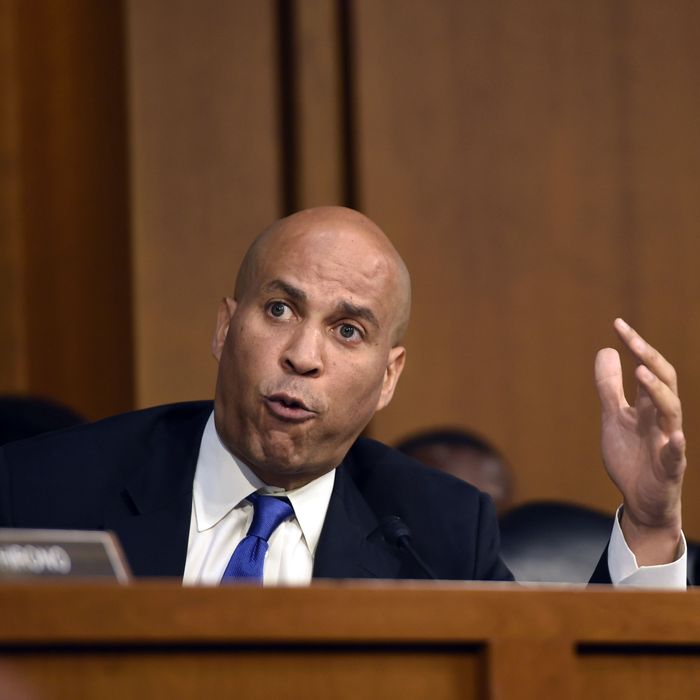 Senators Booker and Harris were among the Judiciary Committee Democrats objecting to the rush to confirm Brett Kavanaugh.
Photo: Saul Loeb/AFP/Getty Images
Any impression that Senate Democrats were going to roll over and accept Brett Kavanaugh's confirmation to the Supreme Court was at least temporarily swept aside as the minority party didn't even wait for Judiciary Committee chairman Chuck Grassley to introduce Kavanaugh before objecting to the process and the withholding (and late production) of documents from the proposed justice's career. As protesters intermittently protested, Senator Richard Blumenthal pressed for an adjournment so that committee members could review the records released by Grassley last night, and other committee Democrats vocally backed him up.
Grassley struggled to short-circuit the Democratic comments and return to what was expected to be a day of pro forma statements, sputtering frequently and complaining that Blumenthal's motion was out of order.
The most immediate rationale for Democratic anger was the release last night by a lawyer for George W. Bush of 42,000 pages of documents related to Kavanaugh's service in the White House. But it built on earlier protests about hundreds of thousands of documents that were not produced, alongside progressive activist concerns about insufficient Democratic resistance to Kavanaugh and an undercurrent of continuing resentment of the double standard set by Republicans who refused Obama's Supreme Court nominee Merrick Garland a hearing but are now racing to confirm Trump's nominee before the midterm elections.
For the first hour of the hearing, Democrats kept pushing for a vote on Blumenthal's motion, and Grassley kept demanding that the committee return to the planned schedule. At one point Jon Cornyn sarcastically suggested that the hearing was descending into "mob rule," which didn't exactly reinforce the impression that Grassley had control of his committee.
Eventually Grassley cut off discussion and proceeded with his introduction of Kavanaugh and the other planned rituals, with protesters continuing to shout as they were removed from the hearing room. But Democrats have made it reasonably clear that this won't be a uncontested confirmation.