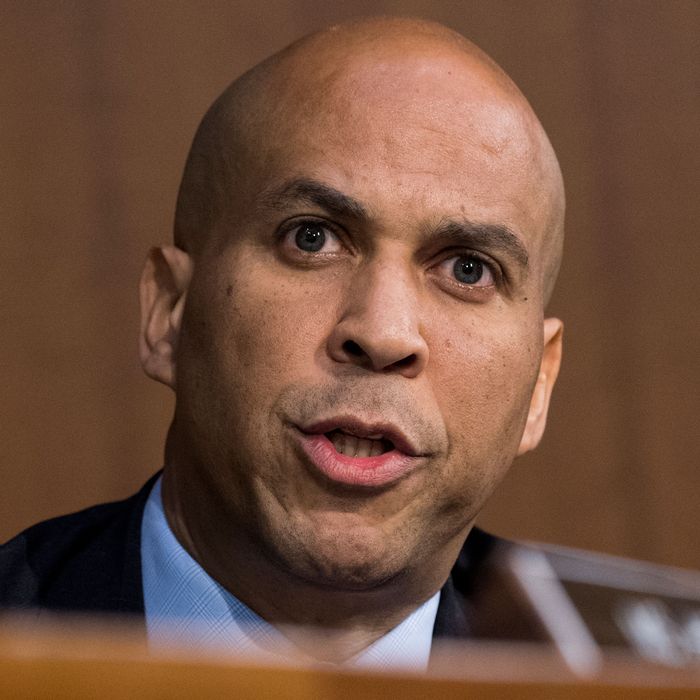 Cory Booker escalated Democratic protests over hidden documents involving Brett Kavanaugh.
Photo: Bill Clark/CQ-Roll Call,Inc.
Senate Judiciary Committee Democrats took their protest over the rushed confirmation hearings for Brett Kavanaugh to the next level by leaking to the media documents placed off-the-record by the Executive branch or Committee Republicans, who threatened retaliation.
The saga began when Cory Booker announced he would, as an act of "civil disobedience," release an email from Brett Kavanaugh's years of White House service involving racial profiling policies (the subject of a line of questioning he pursued with Kavanaugh in yesterday's hearing). John Cornyn, the Senate's second-ranking Republican, promptly threatened Booker with expulsion from the committee or even from the Senate, alluding contemptuously to Booker's presidential ambitions.
As Chairman Chuck Grassley floundered about in his usual way, trying to defend his document confidentiality process, Democrats lined up to express solidarity with Booker. Mazie Hirono announced that she, too, would release "committee confidential" documents. Dick Durbin said to Booker, alluding to possible repurcussions against him: "Let's jump into the pit together!" And then Booker challenged Cornyn to follow through with formal action to discipline him and other Democrats.
After some saber-rattling cross-talk from both sides, and an offer by Republican Mike Lee to work out individual requests for document release, Grassley abruptly began the scheduled second-day questioning of Kavanaugh, and protests from the audience broke out — all as though the exchanges over civil disobedience and expulsion from the Senate had not happened.
Democrats have now escalated their protests over Kavanaugh hearing procedures to the point where a walkout — reportedly considered as an option at the very beginning of the hearings — is their last recourse. The hearings are supposed to conclude today, but another dramatic moment is not out of the question.