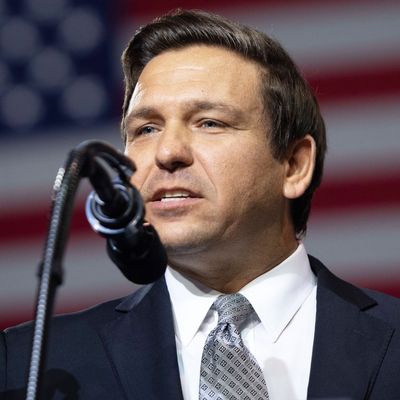 Representative Ron DeSantis, Republican of Florida, and candidate for Florida fovernor, during a Trump rally in July 2018.
Photo: SAUL LOEB/AFP/Getty Images
The Washington Post reports that Congressman Ron Desantis, the Republican nominee for governor in Florida, spoke four times at a conference organized by a hard-right conservative who has been labeled as a "driving force of the anti-Muslim, anti-immigrant and anti-black movements" by the Southern Poverty Law Center.
DeSantis appeared between 2013 and 2017 at the David Horowitz Freedom Center conferences in Florida and South Carolina. Horowitz is a former left-wing activist who runs a conservative organization that has described its mission as combating "the efforts of the radical left and its Islamist allies to destroy American values and disarm this country as it attempts to defend itself in a time of terror." Horowitz has accused President Obama of being an "anti-American radical" and claimed that "the real race war" in America is against white people.
The Post provides a flavor of the sort of crowd his confabs tend to attract:
Fellow speakers included a former Google engineer who was fired after arguing that "biological causes" in part explain why there are relatively few women working in tech and leadership; a critique of multiculturalism who has written that "Europe is committing suicide" by welcoming large numbers of refugees and immigrants; and a British media personality who urged the audience to keep the United States from becoming like the United Kingdom, where "discrimination against whites is institutionalized and systemic."
Other attendees have included Milo Yiannopoulos and Steve Bannon.
The paper reviewed three of the four speeches DeSantis gave at the events, and found that he did not touch on race specifically in those remarks.
But DeSantis, who won his primary race over an Establishment Republican by hugging himself tightly to President Trump, has already gotten in trouble on the issue once in recent days.
Just a day after winning the primary, he appeared on Fox News to warn voters not to "monkey this up" by voting for his opponent, Tallahassee mayor Andrew Gillum, who is black. He also called Gillum "articulate." The comments were widely condemned as racist, and a Fox News anchor later said on-air, "we don't condone this language."
A spokeswoman for DeSantis told the Post that Desantis "appreciates those who support his efforts and is happy to be judged on his record. He does not, though, buy into this 'six degrees of Kevin Bacon' notion that he is responsible for the views and speeches of others."