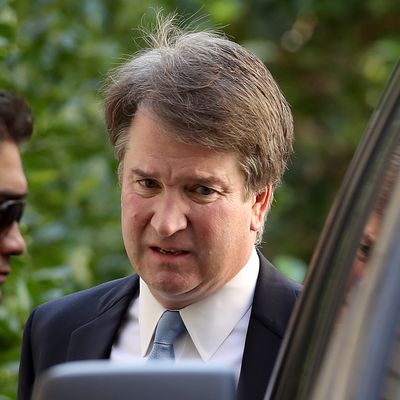 Ed, you're not helping.
Photo: Win McNamee/Getty Images
The sexual assault allegation against Brett Kavanaugh has put Republicans in quite the jam. On the one hand, they think failing to put Kavanaugh on the Supreme Court in the next few weeks will hurt them in the midterms, and maybe even prevent them from putting another conservative on the Court. On the other hand, it's no longer acceptable to dismiss women alleging sexual misconduct as "a little bit nutty and a little bit slutty."
A few more moderate Republican senators successfully pushed to let Christine Blasey Ford testify before the Senate Judiciary Committee, while rejecting her request for an FBI investigation into her allegation. Meanwhile, Kavanaugh backers have already come up with a theory that exonerates him, without calling Ford a liar. Earlier this week, Senator Orrin Hatch said Kavanaugh told him "he didn't do that, and he wasn't at the party," so clearly Ford must be "mistaken." The same possibility of mistaken identity was floated by The Wall Street Journal editorial board, and by the Washington Post columnist Kathleen Parker, who mused, "Could there be a Kavanaugh doppelganger?"
Ed Whelan, a former law clerk to Justice Antonin Scalia and the president of a think tank called the Ethics and Public Policy Center, took this theory to a new, wildly irresponsible place on Thursday night, actually identifying a classmate of Kavanaugh's at Georgetown Prep, and suggesting that he, not the future judge, might have attempted to rape Ford.
The tweetstorm showed the results of Whelan's internet sleuthing. The supposed evidence (which we are not embedding because there's no reason to think the classmate was actually involved) includes:
• A Google map of where Ford, Kavanaugh, and other alleged witnesses lived when they were in high school.
• Real estate photos of the home where Whelan thinks the incident might have occurred, based on Ford saying the house was "not far from" the Columbia Country Club.
• A floor plan that shows that the upstairs bathroom is across from a bedroom in this house, just like Ford described.
• And finally, the big reveal: 35 years ago, this was the home of a Georgetown Prep student who looks kind of like Kavanaugh and was also friends with Mark Judge (who was allegedly present during the assault). Yearbook photos and a current photo of the classmate are provided for comparison to Kavanaugh.
As Twitter users discussed the irony of the head of the Ethics and Public Policy Center possibly being sued for defamation, Whelan added a disclaimer:
Ford quickly issued a statement dismissing the theory. She said of Kavanaugh and the classmate, "I knew them both, and socialized with" them. She said she'd visited the other classmate in the hospital, so "there is zero chance that I would confuse them."
Whelan is friends with both Kavanaugh and Leonard Leo, the Federalist Society executive director who is advising the White House on the nominee. Whelan has become one of the judge's most prominent defenders, and he's reportedly advising on Kavanaugh's confirmation effort as well. Earlier in the week he teased that he had information that would clear Kavanaugh's name.
Politico reported on Tuesday that Whelan had told at least three associates that his confidence in his assertions is "close to 100 percent." His claims reportedly sparked "intense speculation" among conservatives and even White House aides.
But Whelan's claim is the only one being taken seriously by conservatives, including several close to Kavanaugh, who were tantalized by his assertions, given his decadeslong friendship with Kavanaugh and close involvement with the nomination process. A graduate of Harvard Law School who served as a law clerk to the late Justice Antonin Scalia, and a blogger on legal issues for National Review Online, he has worked alongside Federalist Society executive director Leonard Leo advising the White House on judicial nominations.




"Ed Whelan is the model of careful, discerning legal analysis and commentary. It's why all of us who know him take everything he says and writes so seriously," said Rich Lowry, the editor of National Review, where Whelan writes on judicial issues.
As of late Thursday night, Whelan had not backed off from his assertions. He did not respond to requests for comment from the Washington Post, but retweeted a jab at Ford's attorney.
The Post reported that top Republicans tried to distance themselves from Whelan after his tweetstorm flopped:
Republicans on Capitol Hill and White House officials immediately sought to distance themselves from Whelan's claims and said they were not aware of his plans to identify the former classmate, now a middle school teacher, who could not be reached for comment and did not answer the door at his house Thursday night.
Garrett Ventry, communications adviser for the Senate Judiciary Committee, tweeted that they had no involvement:
Even right-wing outlets from Hot Air to the Washington Examiner dismissed the theory and said Whelan was wrong to identify the classmate. "It is inconceivable that this Whelan defense will help Kavanaugh in any way. In fact, it's so nasty and desperate-seeming that it taints Kavanaugh, despite that fact that he might have had nothing to do with it," wrote The American Conservative's Rod Dreher.
However, it appears Republicans haven't ruled out the mistaken identity defense entirely. Per the Post:
Kavanaugh and his allies have been privately discussing a defense that would not question whether an incident involving Ford happened, but instead would raise doubts that the attacker was Kavanaugh, according to a person familiar with the discussions. 
Whelan concluded his Twitter thread by saying it's unfortunate that the classmate is being drawn into the controversy, blaming Senator Dianne Feinstein for his decision to tweet out the man's name, photo, and former address.
Obviously, conducting a "fair assessment of this evidence" shouldn't involve one of Kavanaugh's friends consulting Google, then posting his findings in an incendiary Twitter thread; it's a job for law enforcement. All Whelan did was vividly illustrate why Republicans are wrong to reject Ford's call for an FBI investigation prior to her testimony.