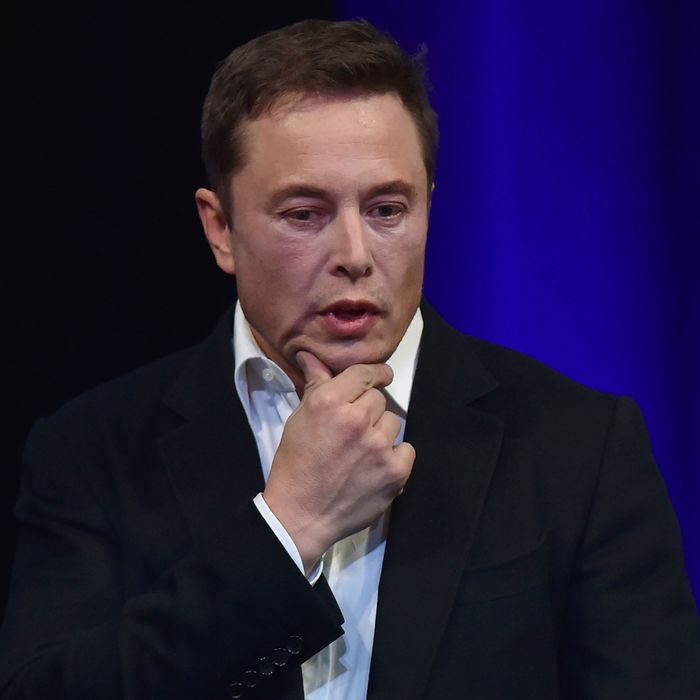 Elon Musk.
Photo: Peter Parks/AFP/Getty Images
Was it only two months ago that the Thai boys were trapped in a cave? Was it only two months ago that billionaire inventor Elon Musk set out to build a small canister for the boys to get them out of the cave? Was it only two months ago that one of the divers who rescued the group without using the kid kanister called Musk's work a "PR stunt"? Was it only two months ago that Musk responded to the criticism by calling diver Vern Unsworth a "pedo" on Twitter and had to apologize? What a summer it's been.
Having revived his prior comments last month — Musk essentially asked, "well, if he's not a pedo, why didn't he sue me?" — it was revealed over Twitter that Musk had received a warning from Unsworth's lawyer, and now Unsworth has followed through. According to Reuters, Musk is being sued in California for defamation. Unsworth is seeking $75,000 in compensatory damages and unspecified punitive damages. Musk, whose net worth is an estimated $20.7 billion, can probably take the hit.
The pedo comments, somehow, only barely cracked the top-five list of the most insane developments (not in any particular order: dating Grimes, trapping Azealia Banks in his house, smoking weed on Joe Rogan's podcast, triggering a government investigation by threatening to take Tesla private if its share price hit $420, fighting with an artist over a drawing of a farting unicorn) in Elon Musk's life this year, and were likely going to fade into obscurity had Musk not revived them himself.
The complaint reads, "Despite his total lack of information supporting his false and defamatory accusations, Musk overtly conveyed to the world that he was in possession of undisclosed false and defamatory facts proving Mr. Unsworth to be guilty of the accusations."
Tesla has not responded to the complaint. Musk also has yet to make a public statement but did previously tell BuzzFeed News that Unsworth was a "child rapist" and that he hoped Unsworth would sue.