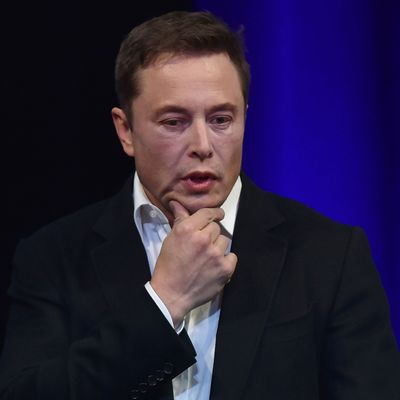 Hmm, maybe I shouldn't have posted that.
Photo: Peter Parks/AFP/Getty Images
The Securities and Exchange Commission announced on Saturday that Elon Musk had agreed to resign as chairman of Tesla's board within 45 days, and pay the commission a $20 million fine, over a fateful August tweet in which he speculated that he would take the company private.
Musk will be barred from the chairman position for three years, but will remain CEO of the company he founded. Tesla will separately pay another $20 million to the SEC, and appoint two new independent directors to its board.
The SEC had sued Musk for deceiving investors, alleging that he did not have the private funding he boasted about in his tweet.
Will this debacle (along with that pesky pedophilia-accusation lawsuit) convince Musk that he's better off spending his time on engineering problems than shredding his credibility in 280-character bursts? We'll soon find out.