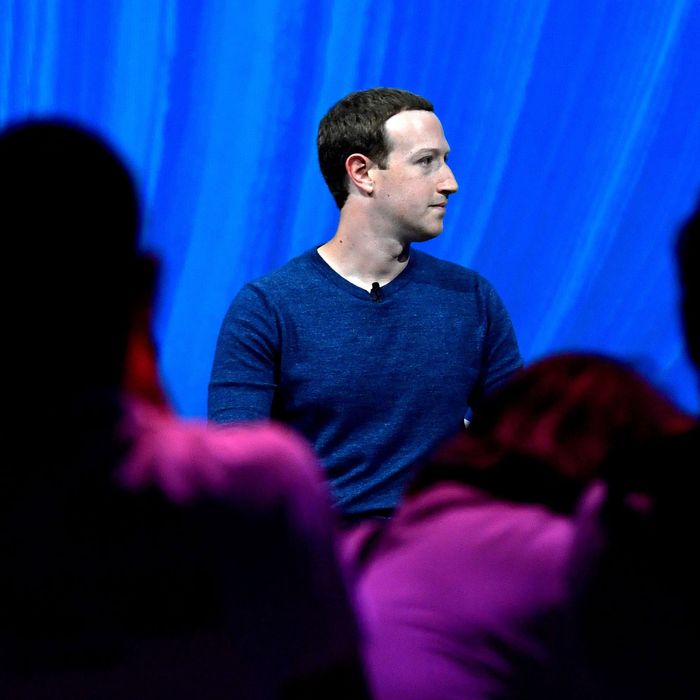 Fifty million people's data was breached in a Facebook hack this week.
Photo: Gerard Julien/AFP/Getty Images
Fifty million Facebook users had their data breached in a recent attack, the New York Times reports. Facebook discovered the breach earlier in the week and forced 90 millions users to log out of their accounts as a safety precaution. (If you were made to log out of your account on Friday morning, now you know why.) "Facebook said it did not know the origin or identity of the attackers, nor had it fully assessed the scope of the attack," the Times also reported. "The company is in the beginning stages of its investigation."
On a conference call Friday afternoon, Mark Zuckerberg told reporters the company patched the issue on Thursday night. The vulnerability was in Facebook's "view as" feature, Guy Rosen, Facebook's vice-president of product management, explained. (A safety feature that lets you see what your account looks like to certain people.) Rosen described the attack as being on a "fairly large scale." (The 90 million figure is the 50 million whose data was impacted plus an additional 40 million who used the feature and were logged out for an added protection but were not affected.)
Facebook hasn't yet found that the hackers were able to access any profiles or private messages, but noted the attackers did try to access the platform's API. Rosen said the company stared the investigation on September 16 after it noticed a spike in users, and that it notified law enforcement, including the FBI, on September 26. Credit card information and passwords were not accessed. "We face constant attacks from people who want to take over accounts or steal information," Zuckerberg said. "We need to do more to prevent this from happening in the first place."
It's been dark days at Facebook for months in the wake of the 2016 election. The Cambridge Analytica scandal exposed over 80 million users. (Though a recent study found 25 percent of Facebook users were using the platform more following the scandal.) The company has been leaning heavily on Instagram, a social platform owned by Facebook, to bolster its bruised reputation — a strategy that insiders say is what ultimately drove Instagram's founders to resign from the company earlier this week.
Toss up on which CEO is having a worse week. Mark Zuckerberg … or Tesla's Elon Musk who, as of yesterday, is being sued by the SEC for fraud.