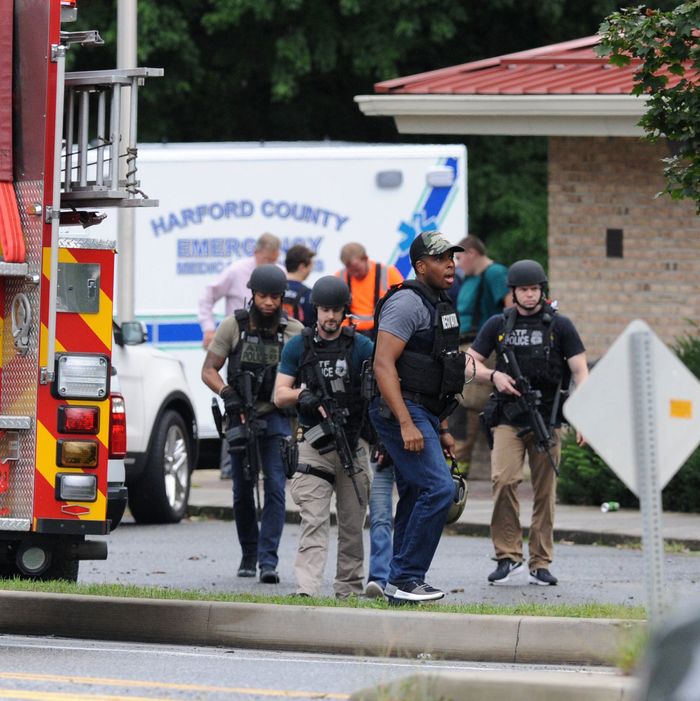 Four people died in the shooting Thursday, including the shooter herself.
Photo: Matt Button/TNS via Getty Images
A woman killed three people and wounded three more at a Rite Aid distribution facility in Maryland Thursday. The 26-year-old then turned the gun on herself. She died later at a local hospital.
Identified by police as Snochia Moseley, the shooter was a temporary employee at the warehouse, which is about 30 miles outside of Baltimore in the town of Aberdeen. Harford County sheriff Jeffrey Gahler said she arrived "as usual" Thursday morning before she began shooting. The first shots were fired outside the building, where Rite Aid employs 1,300 full-time employees and 300 temps. The shooter then moved inside.
Gahler say Moseley used a 9mm handgun in the attack and that law enforcement did not fire any shots. The shooter also had "two, perhaps three" more clips of ammunition, Gahler said.
Krystal Watson, a 33-year-old who works at the warehouse, told the Associated Press that the shooter fired indiscriminately. "She didn't have a particular target. She was just shooting," Watson said. "She didn't aim. She just shot."
Mike Carre, who works for another company in the same business park and helped a gunshot victim with his wounds, said Rite Aid employees told him the shooter was "a nice person."
"She came in in a bad mood," Carre told the Washington Post. The Rite Aid employees he spoke to said the shooter "wanted to pick a fight. And then she started shooting." Carre provided Post reporters with video of Rite Aid employees being led away from the warehouse with their hands on their heads.
Rite Aid issued a statement that said the company is "deeply saddened by the events." It also said that the warehouse will be closed and grief counselors will be made available for all employees.
The shooting in Maryland was the third shooting across the country with multiple victims in less than 24 hours. On Wednesday afternoon, four people were injured in a workplace shooting outside of Madison, Wisconsin. Only the gunman, who was shot by police, died. Later in the day, another four people were injured in Pennsylvania when a gunman opened fire at a municipal building.