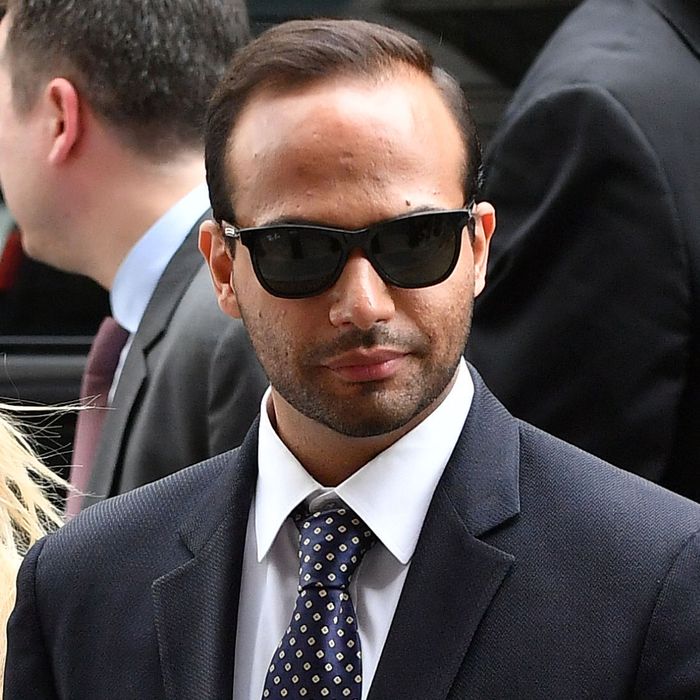 George Papadopoulos says he made a "terrible mistake."
Photo: Mandel Ngan/AFP/Getty Images
George Papadopoulos, the former Trump campaign aide who pleaded guilty to lying to the FBI, was sentenced to 14 days in jail Friday. The 31-year-old, who was also ordered to pay a $9,500 fine and perform community service, is the first person to be sentenced in special counsel Robert Mueller's probe into Russia election interference.
Papadopoulos's sentence comes more than year after his July 2017 arrest for lying to the FBI about the timing of his contacts with Joseph Mifsud, a professor with deep Russian contacts. Papadopoulos initially told the FBI that he spoke to Mifsud, who told him about Russian "dirt" on Hillary Clinton, before he joined the Trump campaign. The conversations actually occurred after he was brought on as a foreign policy adviser.
Prosecutors said the lies Papadopoulos told slowed the investigation and prevented the FBI from arresting Mifsud before he could leave the United States. He hasn't returned since.
"I made a terrible mistake," Papadopoulos said a courtroom statement. "I hope to have a second chance to redeem myself."
Thomas Breen, Papadopoulos's lawyer, admitted that his client had been "naive" and "a fool," but he also cast blame on President Trump. With his constant cries of "fake news," Trump has "hindered this investigation more than George Papadopoulos ever did," Breen said.