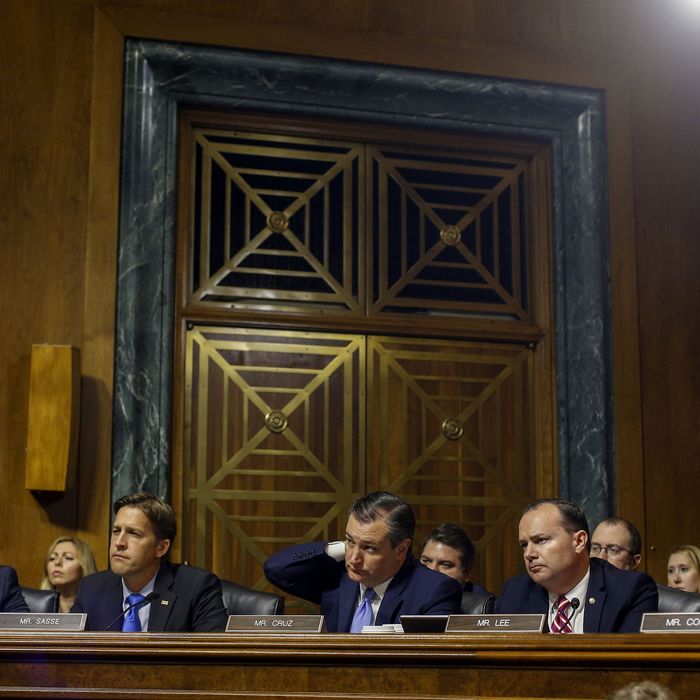 Senate Judiciary Committee Republicans may have to go through a second Supreme Court confirmation process this year.
Photo: Michael Reynolds/Bloomberg via Getty Images
After today's dramatic, supplemental Senate Judiciary Committee hearings, Republicans at both ends of Pennsylvania Avenue will quickly reach a big decision. They need 50 senators (plus a tie-breaking vote from Mike Pence) to confirm Brett Kavanaugh, and at the moment have far fewer than that. Three Republican senators (Susan Collins, Jeff Flake, and Lisa Murkowski) are thought to be genuinely on the fence, along with at least three Democrats (Joe Donnelly, Heidi Heitkamp, and Joe Manchin), all of whom voted to confirm Neil Gorsuch last year.
Republicans do not have to have a majority on the Judiciary Committee to proceed to the floor vote Mitch McConnell has promised Kavanaugh, so they can lose Flake (the only Republican fence-sitter on the committee) so long as they can still get to 50. It is reasonably clear that Mitch McConnell would rather bring the confirmation to a vote even if he knows it's going to fail, so as to satisfy conservative activist demands and to stir up anger at vulnerable red-state Democratic senators up for reelection this year. Kavanaugh himself is vowing to keep on to the bitter end, a statement that he reinforced in an angry personal taunt aimed at Judiciary Committee Democrats today:
"I will not be intimidated into withdrawing from this process. You've tried hard. You've given it your all. No one can question your effort," Kavanaugh told members on the Judiciary Committee.




But he added that a "coordinated and well-funded effort" would not "drive me out."




"You may defeat me in the final vote but you'll never get me to quit. Never," Kavanaugh told senators.
But there's one more vote that matters most here, and it belongs to the man who nominated Kavanaugh. In his long, strange press conference yesterday, the president professed himself open to a withdrawal of the nomination depending on how things went at the hearing. If he thinks Kavanaugh looked bad on television, that could be curtains for the judge — though Kavanaugh's furious defiance of his tormentors probably pleased POTUS, and also will make it hard for Trump to refuse to back him up.
If it's going to happen, it may happen very soon so that Republicans can put this mess behind themselves and begin the process of identifying a substitute. Lucky for them, Trump has a publicly announced list of SCOTUS prospects, who have already been vetted by the conservative legal beagles of the Federalist Society and the Heritage Foundation. Kavanaugh's confirmation has never been a complete slam dunk, and became at least somewhat problematic the moment Christine Blasey Ford came forward, so you have to figure some thought has been given to a fallback plan.
Recent Supreme Court confirmation processes have taken a couple of months or more (Chief Justice Roberts's quick confirmation was misleading, because he was first nominated for an associate justice position before being elevated to the last spot):
So if Republicans want to get a new confirmation campaign going, they have plenty of time before the midterms, and during the postelection lame duck session that they were almost certainly going to conduct in any event if (as is certain) the GOP lost ground in either chamber of Congress. It's true that they'd have to play error-free baseball on a second confirmation, and they will be exposed to constant complaints from Democrats about their treatment of Merrick Garland, the Obama Supreme Court nominee who could never even get a hearing from Senate Republicans.
If Republicans hang onto control of the Senate in November, they would have the option of slowing it all down and confirming a Kavanaugh replacement early next year. As the current saga shows, they could probably use the extra time for vetting.
As for the supreme question of where Trump would turn if Kavanaugh is withdrawn or defeated, the road ahead could go in different directions. The obvious thing if sexual-assault allegations take him down would be to choose a woman like Seventh Circuit Judge Amy Coney Barrett, whose nomination would please conservatives as much as Kavanaugh's did. Aside from the fact that a woman is less likely to be vulnerable to debilitating accusations like those that have bedeviled Kavanaugh, many conservatives don't think it would be seemly for an all-male majority to overturn Roe v. Wade and take away women's reproductive rights.
On the other hand, Trump could decide Kavanaugh was a Bush family friend foisted on him by conservative legal advisers, and go with the recommendations of someone he personally trusts. There is, for example, his sister, Third Circuit Court of Appeals Judge Maryanne Trump Barry, who has vouched for her colleague Raymond Kethledge, who was apparently a runner-up to Kavanaugh.
The one thing that won't happen is some sort of "compromise" choice that will appeal to senators (and others) across the partisan aisle. Even if Trump's own disposition and desire to gin up his conservative base before the midterms doesn't rule that out, the scorched earth left by the Kavanaugh hearings won't be inhabited by a middle-of-the-road SCOTUS nominee anytime soon. That possibility left with Merrick Garland.