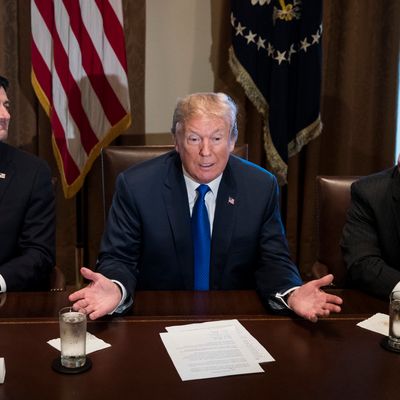 Gamblers's Row.
Photo: Drew Angerer
Yes, they are frantic to find something to talk about other than their president and his various issues, and of course, they think talking about tax cuts appeals to voters' wallets while staking a claim to credit for the good economy. But still, this apparent decision is a risky one.
House Republican lawmakers introduced legislation Monday that would make the 2017 tax cuts for individuals permanent in a bid to highlight their signature economic policy achievement ahead of the November elections.




The legislation – released as Republicans are at risk of losing their majority in the House – is seen as a last-ditch effort by GOP lawmakers to convince voters of the benefits of their new tax code. Polls consistently show less than half of Americans approve of the tax cut.
The bill, to be clear, is not going to be enacted; without the protection of a budget reconciliation vehicle like the one used to pass the first big Trump tax cut last December, it has zero chance in the Senate. So this is an election year "messaging" bill designed to tell voters: Hey, here's some more money we've wrenched from the swamp. Don't forget to say thank you on November 6.
There's a problem, though: the original tax bill was very unpopular among higher-income voters in high-income, high-tax states because of its provisions reducing the deductibility of state and local income and property taxes (SALT) — notably California, New Jersey, and New York. Indeed, some Republicans were undoubtedly proud at their success in screwing over these states as havens of godless immigrant-coddling tree-hugging baby-killing liberals. Reminding them of this screwing-over shortly before the midterms has its perils.
Using the Cook Political Report's ratings, there are 13 highly competitive (Lean D, Lean R, or Tossup) races in Republican-controlled districts in those three states where the SALT provisions are generally hated. There are another six in the Likely Republican category that could become competitive between now and November 6. Democrats need just a net gain of 23 seats to take control of the House.
To be sure, 11 House Republicans from California, New Jersey, and New York voted against the tax bill, mostly because of the SALT provisions. But it's not going to help them very much if their constituents are reminded their party screwed them over, and if their own protestations grow too loud, "base" voters who love the tax cuts could be annoyed, undermining GOP turnout. As David Dayen put it:
Brilliant work by the House GOP, forcing suburban Republicans to once again vote to either defy their party or raise taxes on their constituents.
This could partially be a matter of the many lobbyists for industries and interests benefiting from the original tax cuts wanting to get Republicans locked into making them permanent while the bill is still viewed as a net plus. But if it helps lose them the House, that will be a pyrrhic victory of the highest order.