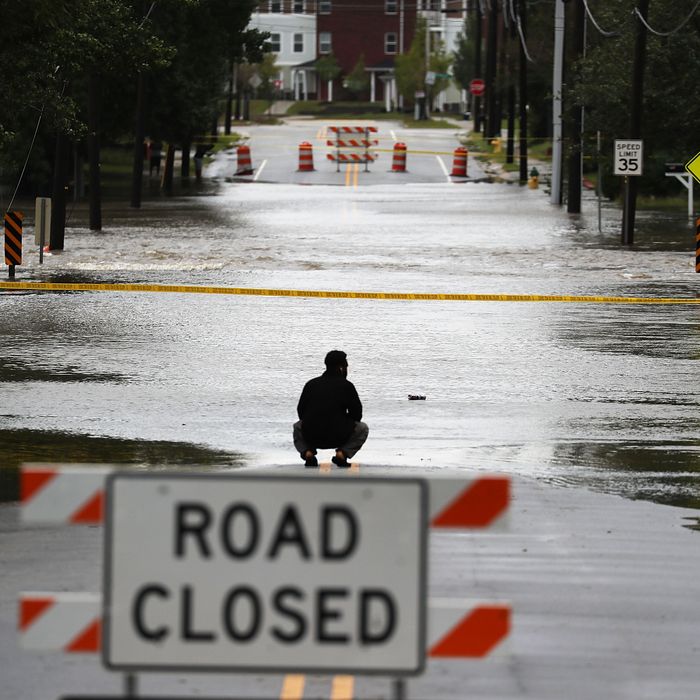 A road washed out by the rains from the remnants of Hurricane Florence in Fayetteville, North Carolina.
Photo: Joe Raedle/Getty Images
The remnants of Hurricane Florence continue to threaten lives, and the danger will not pass for days. The massive storm has caused catastrophic flooding in the Carolinas, and the water is still rising as inland rainfall heads downstream. The flooding risk expanded to southwest Virginia on Sunday. And authorities continue to warn that the worst is yet to come, since record water levels are still expected in many of the region's waterways. Water levels in some places may not crest until midweek.
The Latest
Florence was downgraded to a tropical depression on Sunday, and the center of the storm moved into west-central North Carolina and southwest Virginia on Sunday night. Flash flood warnings were also issued in West Virginia. Parts of the giant storm are currently affecting six southeast states.

In the mountains of west North Carolina, which began experiencing heavy rainfall on Sunday, the threat of landslides is also high.

At least 17 people have died as a result of the storm as of Sunday night. Eleven of the deaths were in North Carolina, and six in South Carolina. Authorities are urging residents, especially those who live near waterways, to remain vigilant. Tens of thousands have been ordered to evacuate on account of the flooding, and thousands have had to be rescued or evacuated from their homes as the waters rose.

Tens of thousands of utility workers are trying to restore power to just over 600,000 homes and businesses in the Carolinas (mostly in North Carolina). 13,500 military personnel have also been reassigned to aid relief efforts. Gas shortages are already affecting some areas.

The city of Wilmington, North Carolina was totally cut off on Sunday after roads in and out of the city were made impassible by floodwaters. Local officials are expecting food and water to be airlifted in. Parts of I-95 and I-40 in the state have been closed due to flooding.

A flash flood emergency was issued for parts of Charlotte, North Carolina on Sunday afternoon as area creeks reached critical levels.
The Forecast and Ongoing Threat
Florence sped up on Sunday, but up until then it had barely moved since making landfall, traveling inland slower than a person can walk, and bring intense bands of heavy rain as it crawled across the Carolinas. That rainfall, or rather where it goes after it lands, continues to be the primary threat from the still enormous storm. Landslides are also possible the mountainous western part of the region.
"More people now face imminent threat than when the storm was just offshore," North Carolina governor Roy Cooper said on Sunday. "I cannot overstate it: Floodwaters are rising, and if you aren't watching for them, you are risking your life — even in places that don't typically flood."
Parts of three states, including almost all of North Carolina, continue to face catastrophic flooding. The region's rivers, creeks, and streams are all still rising, breaking water level records in some areas. Rain is forecast to continue to fall in the region through Tuesday, and the flood levels at some waterways are not expected to crest until as late as Wednesday.
Many cities and towns along the region's waterways will experience flooding, or already have. As one example, a hundred miles inland in North Carolina, 7,500 people who live within a mile of of the Cape Fear and Little rivers, including some residents of the city of Fayetteville, were ordered to evacuate their homes on Saturday. The Cape Fear river reached 44 feet on Sunday, and is still expected to reach a crest of 62 feet on Tuesday. Downriver on North Carolina's coast, the city of Wilmington was cut off by floodwaters and damaged roads early Sunday.
Another potential risk for North Carolina is if any of the state's many industrial hog farms get hit with floodwaters, overwhelming their pits of feces and urine. That would unleash a dangerous mix of viruses, bacteria, and even antibiotics downstream — and floodwater is usually contaminated with raw (human) sewage and other pollutants to begin with. There are also two dozen Duke Energy coal ash pits, which if inundated, could leak arsenic, mercury, and lead into the environment.
The animals at the state's industrial farms have paid a heavy price during flooding from previous hurricanes, dying by the hundreds of thousands.
About 11 million people live in the areas that have been under storm watches and warnings regarding Florence. About 20,000 people had holed up in Red Cross shelters in the region ahead of the storm, after more than 1.5 million people were ordered to evacuate in North Carolina, South Carolina, and Virginia. Authorities have warned those who left not to come back until the danger has passed.
Florence had strengthened to a Category 4 storm earlier in the week, but was downgraded to a Category 1 on Thursday night. By the time it made landfall in North Carolina at 7:15 a.m., the storm was whipping winds at 90 mph. It was downgraded to a tropical storm later Friday, then again to a tropical depression on Sunday, with winds as high as 38 mph.
18 Trillion Gallons of Water Has to Go Somewhere
One meteorologist's widely cited analysis predicted that Florence would dump 18 trillions gallons of water on seven states across seven days — enough to cover the entire state of Texas in four inches of water. The slow-moving Florence, at hundreds of miles wide, has already set several rainfall records, particularly in southeast North Carolina, where as much as 33 inches has fallen since the storm began.
Compounding the risk of all this water, many of the states in Florence's path have already experienced heavy rains over the summer, leaving them waterlogged and particularly vulnerable to flooding. Some waterways in the Carolinas had seen water levels 20 feet above average before the storm hit.
Yes, This Is What Climate Change Looks Like
Many meteorologists have made an ominous connection between the behavior of Florence and last year's Hurricane Harvey, which swamped the Houston area with the worst rain-induced flooding in American history — mostly after being downgraded from a hurricane. Florence, Harvey, and Hurricane Lane, which hit Hawaii, have all set state rainfall records over the past year.
A team of climate scientists warned last week that big, slow, extremely wet storms like Harvey and Florence are probably going to become more common as the effects of global climate change intensify. This suggests that measuring extreme storms by their wind-speed, as in the category system for hurricanes, may no longer be a sufficient way to anticipate their impact. Some have called Florence a category 5 flood threat.
The Death Toll
17 deaths have been linked to the storm so far, including 11 in North Carolina.
A mother and her infant were killed when a tree fell on their home in Wilmington, North Carolina on Friday.

In Kinston, a 78-year-old man was electrocuted while trying to plug in a generator, and a 77-year-old man was found dead, apparently as a result of being knocked down by strong winds.

In Pender County, a woman died at her home from cardiac arrest on Friday after emergency responders were prevented from reaching her by impassable roads.

In Duplin County, which is inland, three people died after their cars were swept away by floodwaters.

A Florence-linked house fire took the life of a husband and wife.

A three-month-old baby was killed when a tree fell on a mobile home in Dallas, North Carolina.

An 81-year-old man was killed after he fell and hit his head while preparing to evacuate.

In South Carolina, a 61-year-old woman was killed when she hit a fallen tree with her car.

The driver of a pickup truck was killed when he drove off the highway in Kershaw County, South Carolina.

The circumstances of the other reported deaths from the storm are not yet clear.
"Our hearts go out to the families of those who died in this storm," Governor Cooper said in a statement on Friday. "Hurricane Florence is going to continue its violent grind across our state for days. Be extremely careful and stay alert."
The Damage So Far
Southeast North Carolina has taken the early brunt of the storm, with several areas suffering through flood emergencies as of Friday and Saturday. On Saturday and into Sunday, the flooding began to strike inland areas of the Carolinas as well.
Almost a million people had lost power because of the storm by Saturday, but recovery crews reduced that number to around 740,000 by Sunday, with most of the outages in North Carolina. As many as three million outages had been predicted. Tens of thousands of utility workers have been brought in to the region to assist.
President Trump signed a disaster declaration for North Carolina on Saturday, and is scheduled to visit the Carolinas to witness the recovery from Florence in person sometime next week.
Below is a look at some of the areas worst struck by the storm and the subsequent floodwaters.
Wilmington, North Carolina is now an island.
The coastal city, which is home to almost 120,000 people, was effectively cut off by floodwaters after roads in and out of the city became impassable on Sunday. A New Hanover County official said that the National Guard and the state government have been asked to aid the besieged city, and they are expecting deliveries of food and water by air. In the meantime, residents have been lining up to get supplies from food stores, and even a local Waffle House was forced to ration out breakfast on Sunday, serving only one biscuit and one drink to customers, according to the Associated Press. It's not clear when full access to the city will be restored. Here are several videos showing the conditions around the city on Sunday:
Fayetteville, North Carolina residents were evacuated.
Residents of the city were among the 7,500 people along the Cape Fear and Little rivers who were ordered to evacuate on Saturday. Parts of downtown have flooded.
Lumberton, North Carolina was hit for the second time in two years.
The town of Lumberton, which is south of Fayetteville, was devastated by floodwaters during Hurricane Matthew in 2016. It was not spared this time around, either. A temporary levee protecting part of the town collapsed on Sunday.
And northwest, in the town of Laurinburg:
A flood emergency in and around Charlotte, North Carolina.
Far inland, parts of Charlotte — one of North Carolina's biggest cities — and the surrounding towns were given a rare flash flood emergency warning on Sunday as water levels in area creeks reached alarming heights. The city itself does not seem to be at risk, but it's not clear how many homes in the area have been flooded. More water is expected.
New Bern, North Carolina experiences its worst flooding ever.
455 people had to be rescued in and around the coastal town of about 30,000 people after Florence's historic storm surge — measured at 10.1 feet above ground level — forced two rivers from their banks and resulted in the worst flooding the town has ever seen. Some people had to be helped from the attics and rooftops of their homes. And the town isn't even out of danger — local officials are bracing for more flooding when days of inland rainwater from Florence eventually makes its way back to them.
This post has been updated throughout.