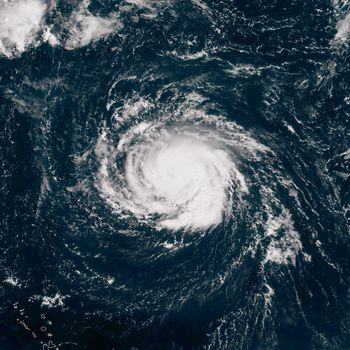 Hurricane Florence on Tuesday.
Photo: Handout/Getty Images
As Hurricane Florence approaches the Carolinas, where it is expected to make landfall as a major hurricane on Friday morning, large-scale evacuations began in multiple states.
South Carolina ordered hundreds of thousands of people to leave coastal areas. "We are in a very deadly and important game of chess with Hurricane Florence, and what Team South Carolina is doing is trying to stay one step ahead," South Carolina Governor Henry McMaster said. "It takes 36 to 48 hours to evacuate the coast."
North Carolina mandated about 250,000 residents to leave e the Outer Banks barrier islands, with Governor Roy Cooper calling the storm a "monster." Virginia governor Ralph Northam ordered an evacuation of low-lying areas.
According to a Tuesday-afternoon update from the National Hurricane Center, Florence now has maximum sustained winds of 140 miles per hour, and was moving north/northwest at 15 miles per hour.
Over the next 24 hours, the storm may reach rare Category 5 status. It may weaken before hitting land, but even if it does, the National Hurricane Center forecasts Florence to remain an "extremely dangerous hurricane through Thursday."
With its track revised slightly northward, Florence is currently forecast to strike the North Carolina coast with heavy winds and a deluge of rain that will spread throughout that state, Virginia, and neighboring areas; powerful gusts will extend 140 miles from the system's center.
Beyond the immediate damage wrought by wind and rain, forecasters are warning that Florence may stall over the Carolinas, producing catastrophic amounts of rain reminiscent of Hurricane Harvey in Houston last year. FEMA Administrator Brock Long warned that towns in Florence's wake may be without power for weeks.
J. Marshall Shepherd, a meteorologist and professor of geography at the University of Georgia, told the New York Times that residents may not be prepared for the catastrophic rainfall to come. "It's a dire situation that I believe is setting up," he said.
In remarks on Tuesday, President Trump tried to project an image of preparedness, in his inimitable way. "We are absolutely and totally prepared," he told reporters. "They haven't seen anything like what's coming at us in 25, 30 years," he added. "Maybe ever. It's tremendously big and tremendously wet. Tremendous amounts of water."
He also claimed that his administration's disastrous response to Hurricane Maria — a storm that is estimated to have killed around 3,000 people — was an "unsung success."
On the first point, at least, Trump was correct.
"There is an increasing risk of two life-threatening impacts from Florence: Storm surge at the coast and freshwater flooding from a prolonged heavy rainfall event inland," the National Hurricane Center said Sunday.
Only ten hurricanes have made landfall on the southeast coast since 1851, and if Florence hits North Carolina as a Category 4, it will be the strongest storm to ever come ashore that far north.
The 2018 hurricane season has been quiet up to this point, but now there are two more systems developing behind Florence. Further out in the Atlantic, two storms — Helene and Isaac — gained strength on Sunday. Helene is expected to go out to sea after passing the Cabo Verde Islands, but the National Hurricane Center said that Isaac will be "at or near hurricane intensity" by the time it reaches the Lesser Antilles this weekend.