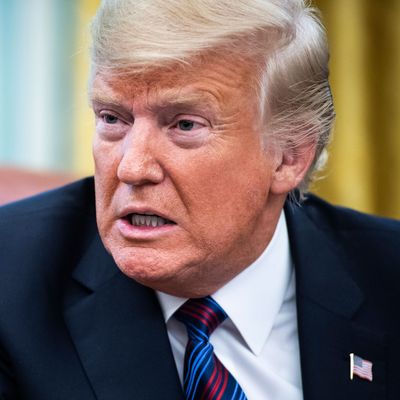 Always battling a vast left-wing conspiracy.
Photo: Jabin Botsford/The Washington Post/Getty Images
As Hurricane Florence continued to batter the Carolinas on Friday night — five people were confirmed dead as of Saturday morning — the president was still relitigating his administration's widely criticized response to Hurricane Maria, which struck Puerto Rico almost a year ago, by promoting a baseless conspiracy theory.
Also on Friday, Trump compared media treatment of the time President Obama made a slip of the tongue with that of his own constant avalanche of falsehoods.
Earlier this week, after declaring that his administration's response to Maria was an "incredible, unsung success," Trump tweeted for the first time that a recent study finding that about 3,000 people died in Puerto Rico as a result of the storm was wrong. Instead, he insisted, the death toll still stands in the double digits, and those claiming otherwise are part of a Democratic plot to take him down. (Another recent inductee to this shadowy liberal cabal: Bob Woodward.)
The study in question, conducted by researchers at George Washington University, meticulously compared medical records on the island from the months after the storm to those in a normal, non-hurricane period. They found that the catastrophic loss of power and infrastructure after Maria swept through Puerto Rico contributed to the deaths of an excess 2,975 people, many of whom could not attend to urgent medical needs.
After enduring months of criticism for not fully reckoning with the toll of Maria, the Puerto Rico's government quickly adopted the study as itsofficial death toll.
But Trump isn't having it. When he visited Puerto Rico a few days after the storm last year, Trump declared that, because of the low initial death toll — which included only deaths caused directly by the storm — Maria wasn't a "real catastrophe" like Hurricane Katrina, which killed 1,833 people. Even then, it was obvious that the real death toll was far higher, and that Puerto Rican leadership was ill-equipped to gather an accurate count. This mattered little to a man who made it clear before, during, and after Maria that the storm (and the island in general) were second-order priorities, but that he would still try to claim credit for a job well done.
As usual, attempting to shame or fact-check the president on such matters is an exercise in futility. But Trump's attempt to exculpate himself from blame does have the side effect of drawing more attention to a disaster that has often been overlooked on the U.S. mainland — and to the Trump administration's bungled response.