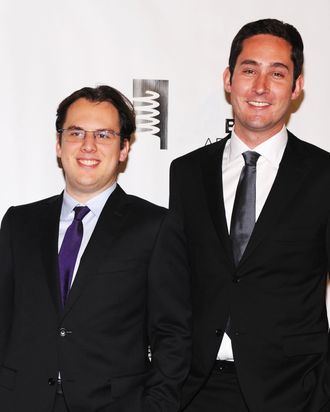 Instagram co-founders Mike Krieger and Kevin Systrom are leaving the company.
Photo: Jamie McCarthy/WireImage for The Webby Awards
Instagram co-founders Kevin Systrom and Mike Krieger are leaving Instagram after eight years at the company, six of them after the photo-sharing app was purchased by Facebook. "We're planning on leaving Instagram to explore our curiosity and creativity again," Systrom, who also served as the company's CEO, explained in a statement on the company's blog.
While we have no doubt that Systrom and Krieger want to explore their creativity again, reports from other tech outlets indicate that a major contributing factor to the decision was recent discord between the co-founders and Facebook CEO Mark Zuckerberg. "Lately, they were frustrated with an uptick in day-to-day involvement by Zuckerberg, who has become more reliant on Instagram in planning for Facebook's future," reported Bloomberg. "Tension had mounted this year between Instagram and Facebook's leadership regarding Instagram's autonomy … in May, Instagram's beloved VP of Product Kevin Weil moved to Facebook's new blockchain team and was replaced by former VP of Facebook News Feed Adam Mosseri — a member of Zuckerberg's inner circle," TechCrunch reports. A piece from Recode puts it succinctly: "the co-founders have disagreed with Zuckerberg on a handful of recent product changes, including changes to comments and how posts are shared between the two networks."
What are those specific changes? One sore point could be that tweaks to Instagram's sorting algorithm now mean that Instagram comments from verified accounts and accounts with lots of followers surface higher than comments from non-verified accounts — a new feature that has led to mass comment spamming from follower-seeking verified accounts like @DiaryOfAFitMommyOfficial. Another might be the app's newly aggressive efforts to link Facebook accounts, and friend lists, to accounts and following lists on Instagram. "Is this because Instagram's attempts to get you to follow your Facebook friends have gotten so painfully thirsty and embarrassing, I can only assume so," the Outline's Casey Johnston tweeted regarding Systrom and Krieger's resignations.
Among Instagram's other big, recent changes was the launch of IGTV, Instagram's hub for "long-form" video and its answer to YouTube, this summer. The launch event itself, emceed by Systrom, was a nightmare of technical difficulties and grumpy tech journalists. But in the weeks that have followed, the bigger issue seems to be that people aren't all that into IGTV. While the company was probably hoping for a similar trajectory as when it launched Instagram Stories and then eclipsed Snapchat in active users, this doesn't seem to have been the case thus far. (Oh, also, a report from Business Insider last week found the feature was recommending videos of "potential child abuse.")
That Zuckerberg has been leaning particularly hard on Instagram in recent months isn't surprising. The parent company and flagship product — i.e., Facebook — has suffered a severely battered reputation since the 2016 election, while Instagram, despite being 100 percent owned by Facebook, managed to escape being dragged through the mud with its parent company. Maybe even more significantly, Facebook has found its growth stagnating in its most profitable markets, the U.S. and Europe, while Instagram is still growing prodigiously: In June, it reached the one-billion–users mark. Facing competition from YouTube and Snapchat, it's not at all surprising that Facebook would view the still-popular, still-growing Instagram as its savior.
So what happens at Instagram now that the dudes who built it are gone? Realistically, if those reports of clashes between Systrom, Krieger, and Zuckerberg are to be believed, nothing good. The problem is that the features that led Facebook to astronomical growth — and that Zuckerberg would likely want to see in the Instagram app — are the same features that have made Facebook a social-media pariah.
Take sharing: For a long time, Instagram has refused to support a reshare feature that would allow people to share other users' photos to their own feeds because Systrom and Krieger believe, as Bloomberg wrote earlier this year, that "sharing can also lead to a sense of alienation." "Really that decision is about keeping your feed focused on the people you know rather than the people you know finding other stuff for you to see," Systrom told Wired in 2017 about internal debates over a reshare feature. "And I think that is more of a testament of our focus on authenticity and on the connections you actually have than about anything else." Given Systrom and Krieger's sudden departure, it's hard to imagine it was a coincidence that last week the Verge reported that Instagram had been testing a feature that would let users reshare posts from other accounts to their own Instagram feeds.
With Systrom and Krieger gone, it's easy to imagine Facebook's management moving toward features that promote growth at the expense of the social network's overall health. And this would be terrible for Instagram as we know it. Imagine your feed as it currently exists, plus an influx of reshared posts the people you follow also found interesting or newsworthy or pretty enough to share again with you. That could be okay assuming you're only following a curated list of people whose news judgement and aesthetic discernment you trust enough to populate your feed a little more. But that gets more harried when you consider most Instagram users are also following people they don't know in real life: People who might use this feature to try to sell things. Or disseminate fake news. Or generally turn Instagram into more of a Facebook which is exactly what nobody, except maybe those working for Facebook, wants.
So is Instagram about to suck? Maybe. It's definitely about Zuck.