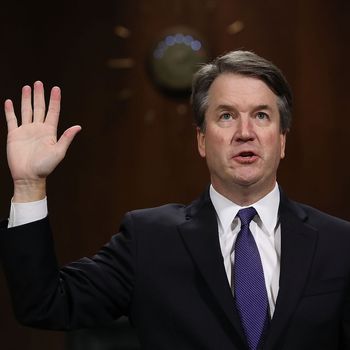 The first vote on Brett Kavanaugh comes Friday morning.
Photo: Win McNamee/Getty Images
The Senate Judiciary Committee will follow through with a planned vote on Supreme Court nominee Brett Kavanaugh on Friday morning, several senators said on Thursday after a long day of emotional testimony from Kavanaugh and Christine Blasey Ford, who has accused him of sexual assault.
Judiciary Committee Chairman Charles Grassley would not explicitly confirm the vote to reporters, but he did say that the committee is meeting at 9:30 a.m. "That's all I can tell you," he said. "There will be a debate starting at 9:30." Asked if there were enough votes to confirm Kavanaugh, he said, "Depends on what happens tomorrow."
Asked about the judge's chances at tomorrow morning's vote, Senator John Cornyn said, "I'm optimistic. I thought the judge did well. We gave Dr. Ford a chance to have her say, and I think it's time to vote."
The Friday vote will be followed by a procedural vote by the full Senate on Saturday and a final confirmation vote early next week. The results of that final vote remain uncertain, though one senator who was seemingly on the fence announced his intention to confirm Kavanaugh on Thursday.
"There is no question that Judge Kavanaugh is qualified to serve on the Supreme Court, and in a different political environment, he would be confirmed overwhelmingly," Senator Bob Corker wrote in a statement. "I believe Judge Kavanaugh has conducted himself as well as anyone could expect throughout this process and plan to vote to confirm him."
The plans of a handful of other senators remain unknown. Prior to a Thursday evening Republican conference meeting, several of the seemingly undecided senators convened in a Capitol office. Republican senators Susan Collins, Lisa Murkowski, and Jeff Flake were joined by Democrat Joe Manchin in the meeting.
Manchin emerged and said no decisions had been made. "We are still talking," he told reporters. "There are some concerns that people have and we're going to try to close the loop."
After the Republican conference meeting, a colleague of the three Republican senators said the potential Kavanaugh defectors had not tipped their hands. It seems that no one knows at this point if the votes to confirm Kavanaugh are there. But as one GOP source told CNN, it's "definitely close."