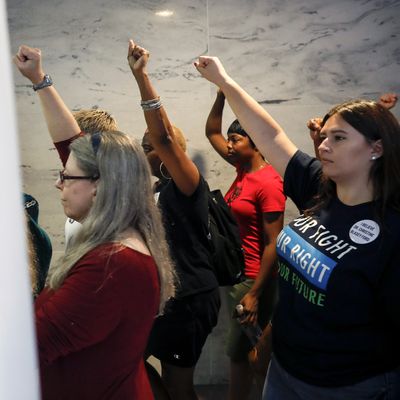 Ford supporters protest outside the office of Senator Chuck Grassley on Thursday, saying he's treating her unfairly.
Photo: AARON P. BERNSTEIN/Bloomberg via Getty Images
After days of speculation about whether Christine Blasey Ford would actually testify about her allegation that Supreme Court nominee Brett Kavanaugh sexually assaulted her when they were teenagers, her attorneys told the Senate Judiciary Committee on Thursday that she is willing to appear next week — as long as they can agree on the terms.
"She wishes to testify, provided that we can agree on terms that are fair and which ensure her safety. A hearing on Monday is not possible, and the committee's insistence that it occur then is arbitrary in any event," wrote Ford's lawyer, Debra Katz. "Her strong preference continues to be for the Senate Judiciary Committee to allow for a full investigation prior to her testimony," she added.
Senate Judiciary Committee chairman Chuck Grassley had scheduled a hearing for Monday, and said that if Ford wanted to appear she would have to notify the committee by 10 a.m. on Friday. Earlier on Thursday, Kavanaugh said he wanted to testify even if Ford did not show.
"Thank you for the invitation to appear before the Senate Committee on the Judiciary on Monday, September 24," he wrote in a letter to the committee. "I will be there. I look forward to the opportunity to testify before the Committee."
"I continue to want a hearing as soon as possible, so that I can clear my name," Kavanaugh added.
Republican and Democratic Judiciary Committee staffers spoke with Katz and Lisa Banks, another of Ford's attorneys, by phone on Thursday to negotiate a potential hearing for next week. The New York Times reported that Grassley is considering moving the hearing to Thursday, and all sides agreed that steps must be taken to ensure Ford's safety. Politico reported that Ford asked to have Kavanaugh testify first, and does not want him in the room when she testifies. Ford's attorneys raised the possibility of subpoenaing several witnesses including Mark Judge, who Ford says egged Kavanaugh on during the assault. They also mentioned having only one camera in the room, and said Ford is opposed to being questioned by outside counsel.
One Senate GOP official familiar with the call told the Washington Post that Kavanaugh testifying first is a "non-starter," saying that "it only makes sense for the accused to respond to the charge." Republicans are unlikely to agree to calling witnesses aside from Ford and Kavanaugh.
"Chairman Grassley's staff had a call with Dr. Ford's attorneys today to discuss receiving her testimony in the Judiciary Committee, and will consult with his colleagues on the committee. He remains committed to providing a fair forum for both Dr. Ford and Judge Kavanaugh," said Taylor Foy, a spokesman for Grassley.
While President Trump had been unusually restrained in his comments on Ford's allegation, during an interview with Sean Hannity ahead of a rally in Las Vegas on Thursday night, he criticized Ford's call for an investigation, saying, "Why didn't somebody call the FBI 36 years ago?"
"That being said, let her have her say and let's see how it all works out." Trump continued. "They've delayed it a week and they have to get on with it."