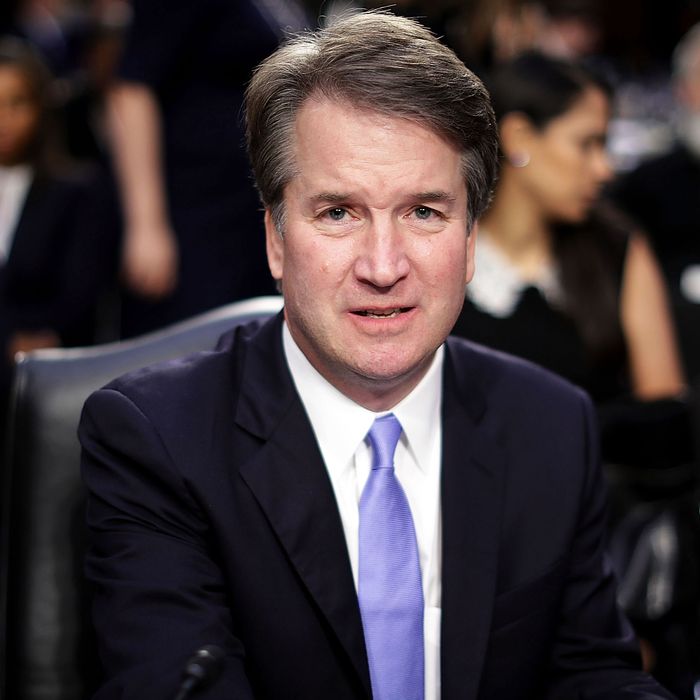 He'll be investigated, but only kind of.
Photo: Chip Somodevilla/Getty Images
When President Trump ordered the short FBI investigation into Brett Kavanaugh that Senator Jeff Flake abruptly demanded on Friday, it was not quite clear exactly how the bureau would proceed. Would it restrict its inquiry — which the Senate Judiciary Committee specified would concentrate on "current credible allegations" — only to Christine Ford's accusation of sexual assault, which was the focus of Thursday's dramatic hearing? Or would it dig into the full suite of allegations that have swirled around the judge over the last week?
The agency appears to be going in a third direction, but not necessarily because it wants to.
Just hours before President Trump authorized the new inquiry, the FBI had reached out to Deborah Ramirez, the second woman to come forward with recollections of alleged sexual misconduct by Kavanaugh.
But on Saturday afternoon, NBC News reported that the White House was limiting the scope of the probe to cover only Ford and Ramirez — not Julie Swetnick, the third woman to come forward with allegations of misconduct against Kavanaugh. "Instead of investigating Swetnick's claims," according to NBC, "the White House counsel's office has given the FBI a list of witnesses they are permitted to interview, according to several people who discussed the parameters on the condition of anonymity." NBC also reported that certain other areas of investigation would also be off limits. For instance, the agency cannot request employment records from a supermarket where key witness Mark Judge worked, which might help corroborate Ford's account of running into him after her alleged assault. And it cannot look into discrepancies between Kavanaugh's account of only drinking moderately in college and that of at least one classmate, who has said he was lying.
On Saturday night, President Trump denied the NBC report.
Senator Flake said on Friday that he thought the FBI should handle the investigation by itself; whether the White House's apparent interference bothers him, or the four other undecided senators who backed him up, will be an important question in the coming days. And the White House's apparently aggressive tactics may backfire in other ways:
In a New Yorker story published last weekend, Ramirez said that Kavanaugh had exposed himself to her during her freshman year at Yale. The article drew fierce criticism from many conservatives (and skepticism from some liberals) who were less than convinced by Ramirez's shaky memory of the incident, and the lack of corroboration around the alleged incident. The FBI may or may not be able to shed more light on the particulars of what happened than reporters Ronan Farrow and Jane Mayer.
Swetnick wrote in a sworn affidavit released on Wednesday that Kavanaugh and Judge were present at a high-school-era party where she was drugged and gang-raped, and that she witnessed Kavanaugh "engage in abusive and physically aggressive behavior" toward women. Swetnick is represented by high-profile lawyer Michael Avenatti. On Saturday morning, Avenatti said on Twitter that he had not yet heard from the FBI.
On Saturday night, the New York Times reported that Judge would be interviewed about Swetnick's allegations, but that Swetnick herself would not be questioned.
The agency has also spoken to two people who figured prominently in Ford's testimony: Judge, whom Ford said was in the room when Kavanaugh assaulted her; and Leland Keyser, a friend of Ford's whom she said was also at the gathering. Keyser has said that she does not know Kavanaugh, nor recall the gathering where the alleged assault took place, but that she believes Ford's recollections. In a statement on Saturday, her lawyer reiterated those points.
Judge — whom Republicans seemed uninterested in hearing from despite his centrality to Ford's story — will cooperate with the FBI, according to his lawyer. He has denied having anything to do with the incident Ford describes. And on Friday, he wrote a letter to the Senate Judiciary Committee pushing back strongly on Swetnick's accusations. "The allegations in the Swetnick affidavit are so bizarre that, even while suffering from my addiction, I would remember actions so outlandish," Judge wrote. "I categorically deny them." (Judge has a well-documented history of heavy drinking.)
Even if the FBI goes the most thorough possible route, the Washington Post notes that there are major limiting factors to how far its probe can go:
A background investigation is, by its nature, more limited than a criminal inquiry, and FBI agents will not be able to obtain search warrants or issue subpoenas to compel testimony from potential witnesses. The FBI's interviews, which will take a few days to conduct, won't turn into a sprawling inquest of everyone Kavanaugh went to a party with in high school, said a person familiar with the investigation.
But with the White House's constraints handcuffing the agency, the odds that it will uncover new information damning enough for Flake or the other swing senators to change their opinion of Kavanaugh are lower than they were on Friday.