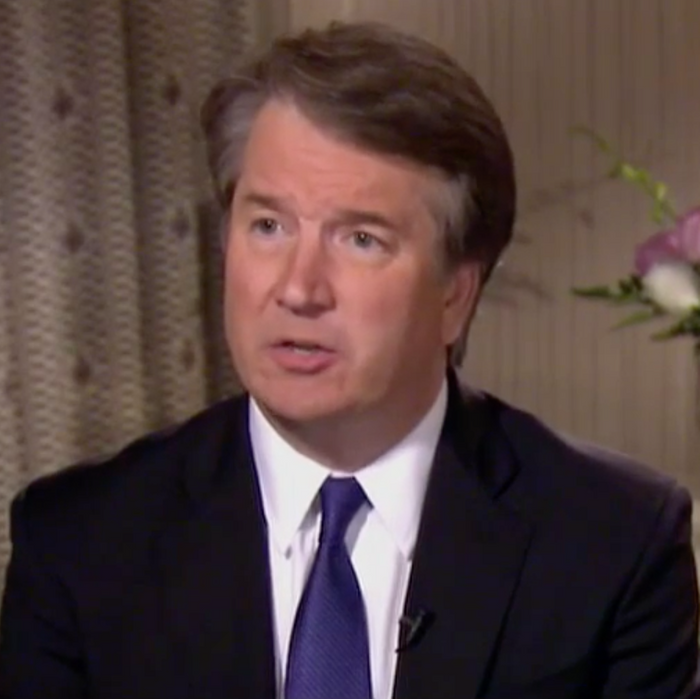 Judge Brett Kavanaugh and his wife, Ashley, during an interview with Fox News.
Photo: Screencap/Fox News
In an interview that aired Monday on Fox News, a defiant Supreme Court nominee Brett Kavanaugh previewed his strategy for Thursday's scheduled Senate Judiciary Committee hearing over sexual-assault allegations leveled against him. He repeatedly denied the claims made by Christine Blasey Ford and Deborah Ramirez, cast himself as the victim of "false accusations," and insisted that he will press on in his quest to win confirmation to the Supreme Court.
During the nearly 14-minute interview, Kavanaugh previewed the defense he is likely to put forward at Thursday's hearing, where he and Ford are scheduled to testify. When asked about the allegations that he attempted to rape Ford and thrust his bare penis in Ramirez's face, Kavanaugh repeatedly denied doing any "such thing."
"I've never sexually assaulted anyone, in high school or otherwise," he said four times in the span of 60 seconds, with minor variations. About Ramirez's claim, which allegedly took place at Yale, Kavanaugh twice said it would have been the "talk of campus" if it had actually happened.
In addition to denying allegations of misconduct, Kavanaugh defended his reputation as a man who respects women. "I've always treated women with dignity and respect," he said at least three times. He also pointed to the letter, signed by 65 women he knew as a young man, that said he always treated women with "decency and respect."
"All I'm asking for is a fair process, where I can be heard," Kavanaugh said. He later added that he was asking for "a fair process, where I can be heard and I can defend my integrity." And later still, he said, he's "asking for a fair process, where I can be heard and I can defend my integrity and defend my family's integrity."
The interview saw Kavanaugh continue a tone he struck in a letter Monday to Senate Judiciary chairman Chuck Grassley and ranking minority member Dianne Feinstein. Kavanaugh wrote in the letter that the allegations against him are "smears, pure and simple." Ford and Ramirez, he wrote, are participating in a "coordinated effort to destroy [his] good name."
He ended the letter by touting his work "promoting the equality and dignity of women." It's a theme he returned to in the Fox News interview. "I am the leader in the entire country of promoting women law clerks to get Supreme Court clerkships," he said. Then he brought up his work as a girls' basketball coach and offered the mothers of the girls he's coached as character witnesses. "Ask the moms," he said awkwardly, unveiling a line that is unlikely to be reprised Thursday.