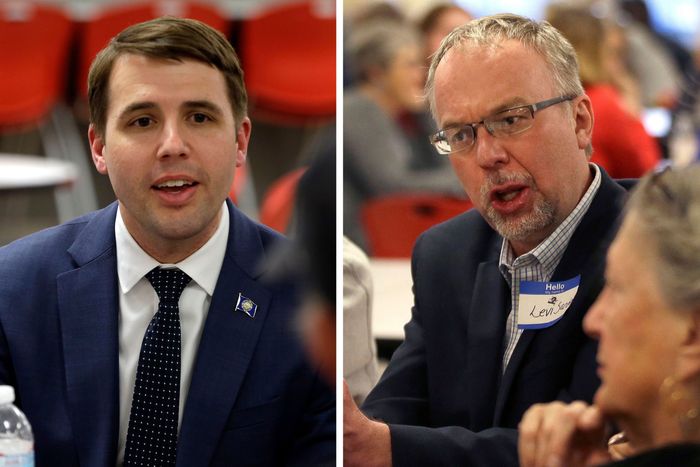 Democratic U.S. House nominee Chris Pappas won over a huge field that included Bernie Sanders's son Levi, who proudly ran without a familial endorsement.
Photo: Elise Amendola/AP/REX/Shuttersto
New Hampshire's 2018 primary last night didn't get a fraction of the national attention that each day on the 2020 presidential campaign trail in the Granite State will receive. But it featured some intrigue, if not exactly drama.
The most interesting contests involved the First Congressional District seat held by retiring Democratic representative Carol Shea-Porter. Eleven Democrats competed for the nomination, and the longtime front-runner, Executive Council (an unusual New Hampshire institution with extensive powers) member Chris Pappas easily defeated free-spending first-time candidate Maura Sullivan, his most viable opponent. Pappas, who would be the state's first openly gay congressman, was backed by virtually the entire Democratic Establishment in the state, while Sullivan, who recently moved to New Hampshire, was supported by EMILY's List and a smattering of national Democrats motivated by her background as a Marine serving in Iraq.
But the candidate who got nearly as much attention as the winner and runner-up was Levi Sanders, an advocate for disability benefits applicants, and much better known for his "strategist" role in the 2016 presidential candidate of his father, Bernie Sanders. Both father and son made it clear from the get-go that as a matter of anti-dynastic principle, Bernie would not endorse Levi or get involved in his campaign. The candidate (who doesn't live in the district, but has lived in New Hampshire for a good while) did not raise much money and wound up finishing seventh, with about 2 percent of the vote. That's 58 percentage points below Bernie's performance in the state in the 2016 primary.
The GOP primary in the district was closer, and produced an interesting nominee: African-American conservative Eddie Edwards, an ex-police chief who was endorsed by Trump attorney and former New York City mayor Rudy Giuliani. The big issue in the race, however, involved allegations of sexual harassment of employees by the early front-runner, State Senator Andy Sanborn.
All in all, the First District primary results are being interpreted as a boost for Democrats in what has been one of the most competitive congressional districts in the country in recent years. Shea-Porter and Republican Frank Guinta swapped the seat back and forth four times between 2010 and 2016. But now the Cook Political Report rates the race as Likely Democratic.Democrats aren't quite as sanguine about their odds of knocking off incumbent Republican governor Chris Sununu (another famous son; his father was governor and White House chief of staff John Sununu), rated the nation's fourth most popular governor as of July by Morning Consult, with a 61/22 job approval ratio. But the primary did give them the nominee most state party stalwarts wanted, former state senator Molly Kelly, who handily defeated self-identified progressive and former Portsmouth mayor Steve Marchand. Kelly became the 11th Democratic woman to win a gubernatorial nomination this year.
Democrats should benefit in New Hampshire as elsewhere from a stiff midterm breeze in their favor in November. But the minute the returns are in, the state's political culture will instantly begin to revolve around the 2020 presidential contest, and what could be a massive Democratic field fighting for the right to go up against Donald Trump (assuming he's still president and is still running for a second term).