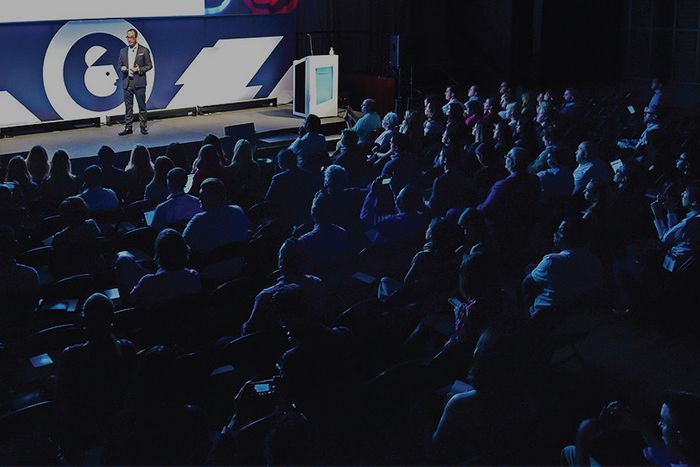 Photo: Courtesy of Advertising Week
It's coming: Starting October 1, Advertising Week will kick off its buzzy, four-day-long series of panels, parties, interviews, workshops, and more networking-friendly opportunities, for those in the ad and marketing industry.
Fifteen years since its inception, the event has evolved as a reflective mirror of culture and an annual gathering of influencers. Incredible ideas have been created there, and — through its enduring power of connection — the global conference has continued its original focus on educating, enlightening, and entertaining.
We caught up with Advertising Week's Global Chief Executive, Matt Scheckner, to hear more about the event's early days and exponential growth, and where he sees the industry headed in the years ahead.

How did Advertising Week begin?
It started with a random phone call in July 2002. Abby Hirschhorn, DDB Worldwide's CMO, was looking for a big idea in support of an effort led by 4A's Chairman Ken Kaess and CEO O. Burtch Drake to attract young talent, boost the image and morale of the industry, and reaffirm New York as a global advertising hub.
The first-ever meeting about Advertising Week offered a preview of the future. A thought-leadership foundation, environment, and experience were all established as key anchors of the game plan. And so, it was on an October afternoon in 2002, in the Roxy Suite at Radio City Music Hall, when it all began. Planning began in earnest in May 2003 after it was agreed that the first-ever Advertising Week would take place in September 2004. With long-time business partner Lance Pillersdorf and a small team, Advertising Week opened its doors for the first time in venues like NASDAQ, the Museum of Television and Radio, and a memorable first Opening Gala at Gracie Mansion.
What did you do before jumping into Advertising Week?
My first job after graduating from Emory was a policy analyst position for the New York City Commission in 2000. It was a great crash course on how New York City actually works, and I was able to leverage key relationships in City Hall and convince the mayor's office to pay attention to sports as economic development. So, at 23, I became the founding executive director of the New York City Sports Commission. Over almost a decade, we re-established the city as a center for big-time competition.
Since 2004, how much have you seen the industry change?
Well, the short answer is a blend of absolutely massive change dictated by technology…and no changes at all, based on the enduring currency of creativity. Certainly, the rise of the smartphone and other mobile hardware, like tablets, coupled with the rise, prevalence, and dominance of high-speed Internet are major forces to be reckoned with, but in so many ways it still comes down to people. The agencies, brands, and platforms that are winning today are doing so because of strong leadership and a willingness to empower dynamic, creative people to push the envelope. The power of human-generated ideas and creativity is still the most potent force out there.
But of course, technology is the single biggest driver of change. When we staged our first-ever opening gala, we were years away from smartphones and social media, and subject areas like artificial intelligence didn't exist in any form. The rise of data and analytics and the whole conversation around trust and transparency have been re-shaped and turbocharged by technology, and that will continue.
As it has evolved in New York City and everywhere else, Advertising Week has become a mirror of our industry, and of the broader arena of business and popular culture. It has also become the place where the agenda is set for the year and where the most difficult and challenging issues facing our business — and often broader society — are tackled head on. Navigating change really sums it all up, and that's the essence of what we do here at home in New York City, as well as in London, Mexico City, Sydney, and Tokyo.
Advertising Week is renowned for thought leadership by day and some pretty amazing entertainment by night. Who are some of the acts you've had at events over the years?
In no order whatsoever: Jon Stewart and Curb Your Enthusiasm star Susie Essman, at Jazz at Lincoln Center, and Gnarls Barkley at the old Nokia Theater in 2006. Bruno Mars, Outkast, LCD Soundsystem, Alessia Cara, Pharrell Williams, Dua Lipa, Mark Ronson, Wyclef Jean, Ziggy Marley, Rita Ora, Sting, Nas, John Legend, The Roots, Snoop Dogg, Amy Schumer, Jimmy Fallon, Lewis Black, J. B. Smoove, Pete Holmes, Trevor Noah, Jeff Ross, and so many more. All have graced Advertising Week stages.
What do the next 15 years look like to you?
Well, let's start with 2018. New players have emerged as kings and queens, others have disappeared, and the flow of ad dollars continues to shift around. As technology smashes through geographic borders, the world is going to continue to shrink, and China's influence, in particular, is going to dramatically increase. Innovation will come from everywhere. Look out for mobile-driven ideas, specifically out of Africa. Measuring success is going to continue to evolve; it's no longer just about big share, but rather connecting with and owning niche audiences. And the slices are going to get thinner and thinner. We will continue to see both acquisitions and consolidation, the disappearance of long-established — but no longer viable or relevant — brands and businesses, as others emerge.
As a constant, Advertising Week will be there every step of the way. And with our new year-round learning platform, AWLearn, we'll provide year-round ways to stay current and get smarter. It's never been a more exciting time.
This is paid content produced for an advertiser by New York Brand Studio. The editorial staff of Daily Intelligencer did not play a role in its creation.