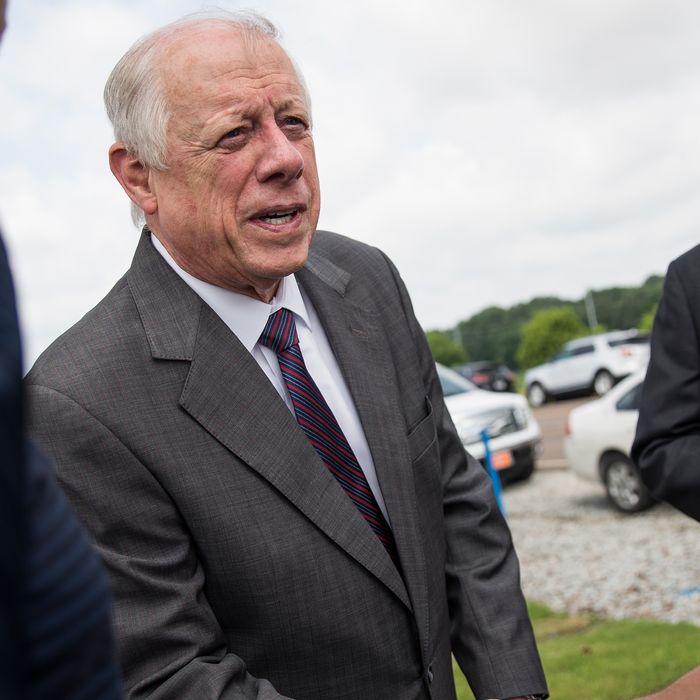 In deep-red Tennessee, Democrat Phil Bredesen's pitch is hypercompetence and experience.
Photo: Drew Angerer/Getty Images
One of the first things Phil Bredesen tells me is he's been ducking people like me for the last nine months, ever since he decided to try his hand at becoming a senator.
We're sitting next to each other at a round table in the wood-lined Oak Bar in the basement of Nashville's ornate Beaux-Arts Hermitage Hotel, one of those grand southern hotels that feels happily trapped in the last century. Bredesen — the former two-term governor of Tennessee, a two-term mayor of Nashville before that, and a health care management company executive before that — keeps running into old friends.
"I'm trying to avoid the national press. You can't entirely," he admits, looking me, a member of the national press, in the eye. "People come with this kind of narrative in mind that they keep trying to pop the race into, and it actually doesn't fit very well, I don't think. Number one, it's very much a special situation. I mean, a generic well-qualified Democrat would not have much of a chance in a Senate race here."
But, he says, the people here know him and his moderate record. And that's why, he insists, even plenty of Tennessee's more conservative voters, with their tendency to support just-get-it-done centrist Republicans, are giving this brand-name Democrat a real shot at replacing retiring GOP senator Bob Corker in November's midterm elections.
"The narrative is, 'Oh, Trump won [Tennessee] by 26 points, so there's that many more people who are just, you know, devoted to the Trumpian view of the world,'" he says. "It's just not right. There's lots of people who voted for [Trump] because he was a Republican, lots of people who bought into the Trumpian view of the world, lots of people who didn't like Hillary Clinton, lots of people who wanted anybody but her — any outsider — trying to decide between Bernie Sanders and Donald Trump. So I think it is a much more complex thing."
Got all that? Phil Bredesen refuses to fit in your box, and he doesn't want to hear about your box, even if it's a vaguely Phil Bredesen–shaped box.
After all, that complexity may be what gets him elected. From the outside, it sure looks like Tennessee is basically as red as it gets: Not only did Trump win it by 26 percentage points, but Mitt Romney won it by 20, and it hasn't elected a Democrat to the Senate since Al Gore, 28 years ago. Yet Bredesen is beloved: When he stood for reelection as governor in 2006, he won all of the state's 95 counties.
The Democrats' brand has tanked in Tennessee since then, and Bredesen's opponents are making sure everyone knows about the "D" next to his name. So far, though, he's been careful to fly far underneath the national radar, garnering a tiny fraction of the headlines and online virality surrounding someone like Beto O'Rourke, the Texas congressman running a long-shot bid to take out Senator Ted Cruz. That's Bredesen's plan to avoid the national party's stain. He has proceeded with a purposeful calmness, quietly cementing front-runner status in the Senate race — both in polls and among prognosticators — even as national Democrats cultivate a campaign that's much louder, more combative, and more fractious.
So Bredesen isn't trying to be the bomb-thrower in the race, and he doesn't seem to mind when people call him boring. His pitch is hypercompetence and experience at a time of deep displeasure with D.C. dysfunction. He spends more political energy on the Tennessee Valley Authority, the state's brutal opioid epidemic, and the local Asian carp problem than on any national issue, let alone Trump, whom he doesn't mention much. ("Look, I'm not running against Donald Trump," Bredesen says in one of his ads.) It's not a stretch to think he'd fit right in on Capitol Hill — he's already talked to a few former governors-turned-senators about that transition, he tells me. If he beats Congresswoman Marsha Blackburn in two months, Bredesen, 75 when sworn in, would be the oldest freshman to join the Senate since World War II. He orders a Caesar salad with grilled chicken, and softly tells me he loves the Senate's famous bean soup.
That morning had offered a neat contrast between Bredesen and his opponent. Upstairs at the Hermitage, which is about a block from the state capitol, the pair talked to a group of health-care and education professionals, and local lawmakers, about opioids. Blackburn spoke first, standing in front of a quiet room and darting out immediately when she was finished. Bredesen, wearing a gray suit with a white shirt and a dark blue patterned tie, followed about an hour later, and was greeted with a standing ovation. He stood opposite the ballroom's portrait of Andrew Jackson and promised to roll back the 2016 drug-industry-backed legislation that's been widely blamed for weakening the federal government's ability to fight the crisis. He cupped his ear and took questions from the audience, and then met with local reporters in the hotel lobby, where one pointed out what Bredesen hadn't needed to say out loud: The law he was targeting had famously been co-sponsored by Blackburn.
Between bites of salad less than an hour later, Bredesen tells me he probably wouldn't have gotten into the race if his friend Corker had run for reelection, or if Bill Haslam, Bredesen's Republican successor as governor, had stepped in. "I'm certainly far enough in life that I didn't get in this to keep somebody out of office," he says.
Blackburn is a unique figure in Tennessee politics. An outspoken tea party-er whose rise has been marked by feuds even with fellow GOP members at home, Blackburn has tied herself especially tight to Trump, telling the crowd at one of his rallies in May about his "amazing 18 months."
"Tennessee needs a senator who's gonna support President Donald Trump, and I am going to be there to stand with President Donald Trump, and take your Tennessee values to Washington, D.C., to fight with him to get the job done," she promised.
Bredesen, her side maintains, is really a left-winger masquerading as a centrist. When musicians Jason Isbell and Ben Folds campaigned for him this summer, Senate Republicans' campaign arm said Bredesen was partnering with the "unhinged left."
That's been a tough case to make, largely thanks to the significant proportion of Republican and independent voters already supporting Bredesen, and because Corker, a Republican who's clashed with Trump, has refused to criticize Bredesen or praise Blackburn, effectively giving the Democrat a big boost. Nonetheless, the main local knock against Bredesen remains that his election could hand Democrats control of the Senate — or at least get them close — however unlikely that may be. When Trump visited Nashville, he said Bredesen is "an absolute total tool" of Chuck Schumer, leader of the Senate Democrats. (Then again, Trump also called Bredesen "Philbert." Your guess is as good as mine.)
I ask Bredesen what's changed since he last ran for office, and he points to "a great disaffectation, if that's a word, with the national Democratic Party and the way it's acting."
"I talk to somebody who's trying to make up their mind, okay? The conversation, 90 percent of the conversations, are, 'Oh, governor, we loved you as governor, I voted for you twice. I'm not sure I want to send another Democratic vote,'" he says. "This campaign is going to be about how well I answer that question. That's just the disconnect between me as an individual and the national party."
He says the polling he's seen has been clear. "Test my negatives, that's the biggest one: Chuck Schumer and 'You're going to be another Democratic vote.'"
It's reminiscent of what Republicans tried doing to Doug Jones when he challenged Roy Moore in the Alabama Senate race in December. Bredesen's far better known in-state than Jones was in his own conservative home, but when I talked to Jones later, he said the parallels were obvious, and that another southern Democrat who wins on a moderate competence-first platform would be a welcome addition to the Senate. ("It's important to have another senator from the South, I believe, because it's one more voice of moderation — that's important in our party, but also the Republican Party," Jones told me.)
If it works, Bredesen will have convinced moderates and Republicans to back him. He isn't, and won't be, a darling or even adherent of the national left. He's rarely asked to answer questions about democratic socialism, Medicare for All, or abolishing ICE. ("I got asked for the first time, I think it was Monday, the abolish ICE," he notes. "I just said I thought that was a really stupid idea, even though it was people in my party doing it.") Instead, he quietly admits he's hoping for the opposite — for his moderate, heavy-on-experience campaign to pave a path for others on the left.
"Look, I very much would like my party to sort of, you know, get back to being a muscular party focusing on opportunity for middle- and working-class voters, and actually have some ideas that are practical about how to go about doing that. And one of my secret hopes is that if I can be successful in a Trump plus-26 state, that there may be some people who will look at that and say, 'Well, maybe that could be a way we can connect with people who don't live within 100 miles of an ocean,'" he says.
This is a lot coming from a guy who tries not to talk about national politics, and especially party politics, most of the time. "I hate what politics has become in both parties, because it's got this, you know, it's all about tribalism, and demographic groups, and identity politics on my side. And I just think some of that stuff's awful," Bredesen continues.
Surprised to hear him so expansive about national politics, I stay quiet as he sips his water.
"Underneath it all," he starts, then he pauses for a beat. "This is not something I say on the campaign trail, particularly," he offers, and the trio of campaign helpers listening into our conversation at this point each noticeably perk up, plainly not sure what to expect from a man who's hardly known for going off script. We've already spent far more time together than the 20 minutes we'd initially agreed on, but he hasn't looked at his watch once.
"I really think that our country goes through these kind of existential moments every generation-and-a-half, or something like that, when there's something that happens that's really, fundamentally, changing the base of society, and how we react to it as a society determines a lot of things about how the future lays out," he says.
He'd already lived through one — the civil-rights movement and the '60s — he explains, identifying the two previous inflection points: the Great Depression and World War II, and the industrial revolution and Civil War.
"I think we're going through one right now. This combination of this globalism of the economy and what technology is doing, it's fundamentally changing what it means to have a job, the way in which you plan your life out, and so on. I don't think we've responded to it yet, and I really do think that the way, the ways, we find to respond to this are going to have a huge influence on what happens 50 years from now. And I'd like to be a part of it."
This isn't usually quite how interviews with candidates go. The table stays quiet save for the restaurant's soft jazz butting its way in, and I ask if it isn't unrealistically idealistic to think that today's Senate might be the right venue for dealing with these problems.
"Well, I think you're going to have to deal with it in some way," the former governor says, looking down at his half-eaten salad. "If you ignore it, you're setting up society to have even more disparity of wealth, and an even more unhappy working- and middle-class, and so on. And maybe that's what the world will be like in 50 years. I hope not. Because that's ripe for revolution. And all sorts of stuff."