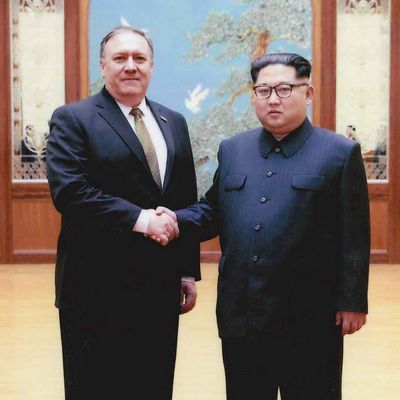 Secretary of State Mike Pompeo and North Korean leader Kim Jong-un.
Photo: The White House
Kim Jong-un's promise that North Korea will destroy its primary nuclear testing site in exchange for concessions from the U.S. has brought Washington back to the negotiating table. Following Kim's summit with South Korea president Moon Jae-in, where President Trump said "tremendous progress" was made, U.S. Secretary of State Mike Pompeo has said negotiations with Pyongyang are back on.
"On the basis of these important commitments, the United States is prepared to engage immediately in negotiations," Pompeo said in a statement. He also set a January 2021 deadline for North Korea's denuclearization.
Talks between the U.S. and North Korea have stalled in recent weeks after President Trump became uncertain that Kim was following through with pledges made at their Singapore summit in June. "I feel we are not making sufficient progress with respect to the denuclearization of the Korean Peninsula," Trump tweeted in late August after cancelling a planned trip to North Korea for Pompeo.
Now, the U.S. appears ready to seize on Kim's new commitments, even if it's unclear how serious he is about them, and talks are back on. Pompeo hopes to get back on track next week at the U.N. General Assembly meeting in New York, to which he's invited the North Korean foreign minister.
Kim is also eager to restart talks and hopes to have a second summit with Trump, President Moon said Thursday. "Chairman Kim Jong-un said he wants Secretary Pompeo's North Korea visit and a second summit with President Trump to happen at the earliest convenience in order to speed up the denuclearization process," Moon said.