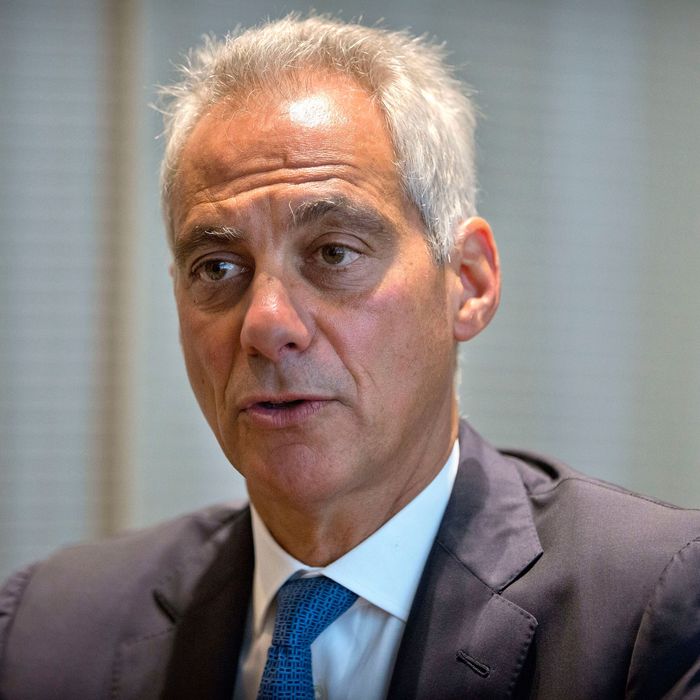 Rahm won't run.
Photo: Mark Schiefelbein/AP/REX/Shutterstock
Before he announced Tuesday that he wouldn't seek a third term as Chicago's mayor, Rahm Emanuel was the favorite to win reelection. But that doesn't mean it would have been easy.
The two-term mayor had a war chest of around $7 million and a path to victory in a crowded field. He also maintained the brash confidence that carried him into office. "I had the option to run," Emanuel said Tuesday, noting that he's six-for-six in elections and insisting he would have made it seven-for-seven. "I knew I would win."
But Emanuel was reportedly hesitant to jump into a bruising campaign that would see his failures in office — and his opponents point to many —highlighted by those on both his political left and right. The Chicago Tribune runs through some of those issues:
Emanuel will step aside next May after two tumultuous terms in office that have included the largest round of school closings in the city's history, a teachers strike, the corruption conviction of his onetime schools chief, rampant gun violence that has surged in recent years, a sex abuse scandal at Chicago Public Schools, record tax increases to shore up the city's pensions and the Laquan McDonald police shooting that led to a federal investigation of the Police Department and sagging support among African-American voters.
Emanuel's surprise announcement comes as the McDonald shooting, which happened in October of 2014, is about to return to the headlines. The trial for Chicago police officer Jason Van Dyke, who shot the 17-year-old 16 times, began Tuesday. Along with opening raw wounds in Chicago, the trial is sure to return focus to the allegation that Emanuel suppressed the release of dash-cam footage of the shooting until after his 2015 reelection bid.
Challengers on both sides of the issue have homed in on Emanuel's handling of the McDonald case, Politico reports:
Lori Lightfoot, who headed a police reform panel in Chicago, has stoked the issue of deep racial and economic divisions in the city and blasted the mayor for overseeing a police force in dire need of change.




Another challenger, former Police Supt. Garry McCarthy, has curried support from police officers who felt alienated during the McDonald fallout and shunned a new round of reforms they say make it difficult to do their jobs.
Emanuel was reportedly loath to spend the next eight months parrying these criticisms. And so on Tuesday he bailed, announcing plans to leave office next year and join his wife as they write the "next chapter in our journey together."