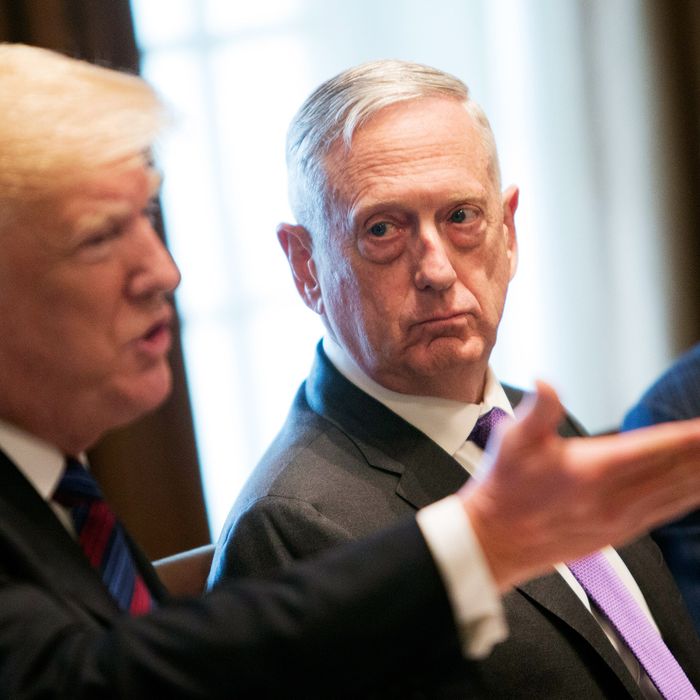 The moderate dog in action.
Photo: Chris Kleponis - Pool/Getty Images
The New York Times reports that Secretary of Defense James Mattis, likely the most important moderating force in the Trump administration, has fallen from the president's good graces, and may be sent packing after the midterm elections. It's the latest in a string of articles detailing the once-untouchable Mattis's reduced stature in the West Wing.
The Times notes that at the beginning of Trump's presidency, the president and Mattis regularly ate together at the White House, a ritual that has disappeared as Trump grows (frighteningly) more confident about his foreign-policy instincts and more skeptical of the general.
But the burger dinners have stopped. Interviews with more than a dozen White House, congressional and current and former Defense Department officials over the past six weeks paint a portrait of a president who has soured on his defense secretary, weary of unfavorable comparisons to Mr. Mattis as the adult in the room, and increasingly concerned that he is a Democrat at heart.
Meanwhile, Mattis faces a new obstacle in super-hawk National Security Adviser John Bolton, who has appointed Mira Ricardel, an old adversary of Mattis's, as his deputy. Ricardel helped block Mattis from hiring a career diplomat who had served in Democratic administrations. Bolton has enjoyed considerably warmer White House relations than Mattis in recent months, as the White House has undercut the defense secretary on issues like the cessation of Korean Peninsula war games.
Part of the Trump's displeasure with Mattis stems from the vast gulf between them on matters of actual policy. For instance, Mattis was in favor of keeping the Iran nuclear deal, doesn't favor alienating members of NATO for no good reason, and pushed back against Trump's transgender military ban. As a guardian of the status quo, Mattis also convinced Trump to extend America's forever war in Afghanistan with more troops. Politico reported that Mattis's establishment thinking recently spurred Trump, hilariously, to transform Mattis's nickname from "mad dog" to "moderate dog."
But, as is often the case with Trump, it's the personal stuff that may matter more than any philosophical disagreement. Though Mattis has been careful not to offer anything but praise for Trump in public, he was quoted in Bob Woodward's new book as comparing Trump's intelligence to "a fifth or sixth grader." Perhaps even more crucially, he doesn't fawn over the president the way Trump likes:
Mr. Trump, two aides said, wants Mr. Mattis to be more like Secretary of State Mike Pompeo, a political supporter of the president. During a televised June 21 cabinet meeting, held as migrant children were being separated from their parents at the southwestern border, Mr. Mattis and Mr. Pompeo were a study of contrasts: On the president's left, the defense secretary sat stone-faced; on his right, the secretary of state was chuckling at all of Mr. Trump's jokes.
The tableau brings to mind a scene in The Sopranos in which Tony cracks a mediocre joke that draws a rapturous reception from his underlings — and realizes that one of them isn't being quite transparently sycophantic enough.
Maybe Trump and Tony Soprano have even more in common than we thought.