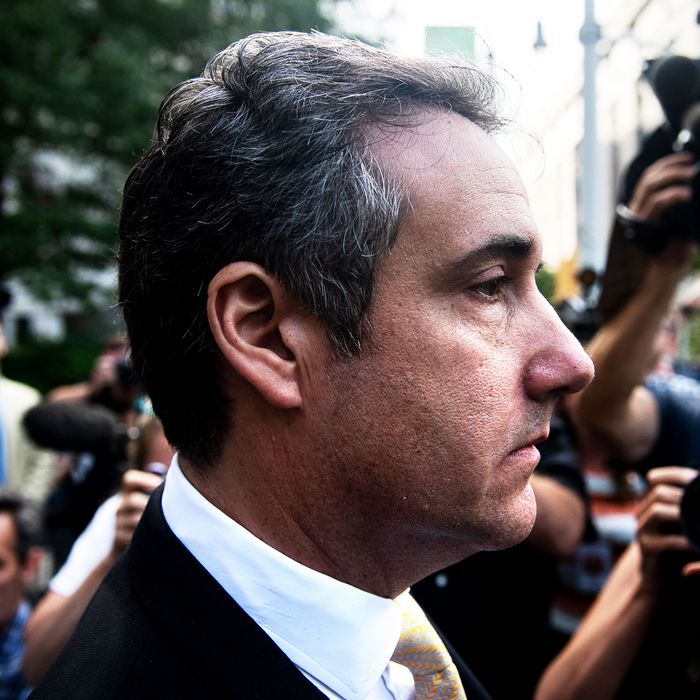 Michael Cohen.
Photo: Mark Kauzlarich/Bloomberg via Getty Images
Just after Michael Cohen pleaded guilty to committing campaign-finance violations at the direction of Donald Trump, a lawyer for Trump's former "fixer" went on a 24-hour TV blitz, boasting of the juicy information his client could share with Special Counsel Robert Mueller. But it wasn't clear that Cohen had actually sat down with prosecutors and begun sharing anything, until today.
Vanity Fair reports:
In recent weeks, it has also become common knowledge among close friends of Michael Cohen, Trump's former personal attorney, that Cohen is talking to the Mueller team, according to people familiar with the situation. …




The extent and purpose of those talks is not entirely clear. 
On CNN last month, Cohen's lawyer Lanny Davis offered few details about what his client could offer Mueller. "I do believe that he has information about Mr. Trump that would be of interest both in Washington as well as New York state," he said.
News of Cohen's conversations with Mueller comes on the same day that Paul Manafort cut a deal with prosecutors. Announced in court Friday, Manafort's plea deal is wide-ranging and could include everything from testifying in other court cases to interviews with Mueller's office.