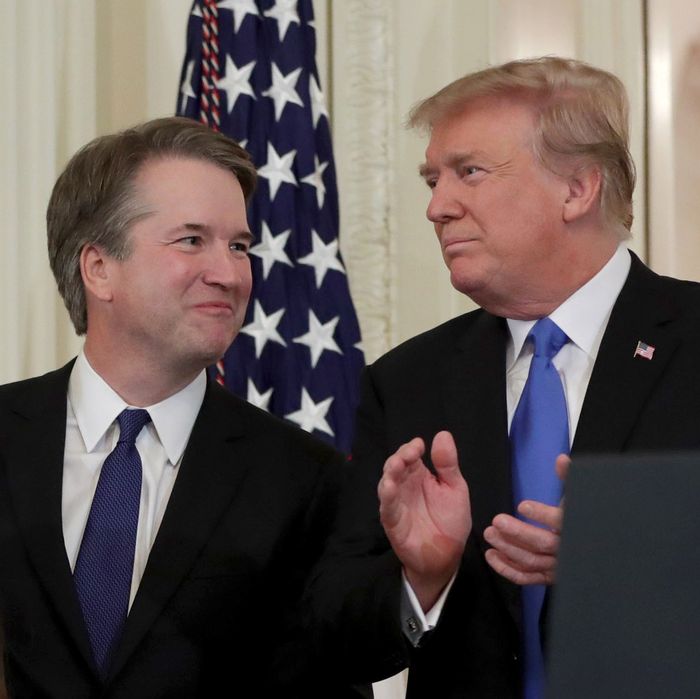 Trump accidentally called him "Justice Kavanaugh" three times on Wednesday.
Photo: Chip Somodevilla/Getty Images
When Christine Blasey Ford went public on Sunday with her claim that Supreme Court nominee Brett Kavanaugh attempted to rape her when they were in high school, a spokesman for Judiciary Committee Chairman Chuck Grassley initially dismissed the "uncorroborated allegations" and indicated that the committee vote on the judge would occur on Thursday as planned. Party leaders only changed their tune after three of their own — Senators Jeff Flake, Bob Corker, and Lisa Murkowski — said the committee vote should be delayed to give Ford a chance to tell her story.
Grassley canceled the hearing, but drew a line in the sand: If Ford wants to testify about the alleged sexual assault, she can do so by Monday. The chairman doubled down on Wednesday evening in a letter addressed to Senator Dianne Feinstein, the committee's ranking Democrat, setting 10 a.m. Friday as the deadline for Ford to say whether she will testify. Grassley offered Ford a few choices:
I recognize that testifying in public about sexual assault allegations may be difficult for Dr. Ford, so I have offered her the opportunity to testify in any of four possible venues: (1) a public hearing; (2) a private hearing; (3) a public staff interview; or (4) a private staff interview. I am even willing to have my staff travel to Dr. Ford in California — or anywhere else — to obtain her testimony. 
Lisa Banks, Ford's attorney, reiterated on Wednesday night that they want an FBI investigation, but she did not rule out Ford testifying without one. "The rush to a hearing is unnecessary, and contrary to the Committee discovering the truth," Banks said.
"She continues to believe that a full non-partisan investigation of this matter is needed and she is willing to cooperate with the Committee," she continued. "However, the Committee's stated plan to move forward with a hearing that has only two witnesses is not a fair or good faith investigation; there are multiple witnesses whose names have appeared publicly and should be included in any proceeding."
As Politico noted, while Trump keeps insisting that the FBI can't probe the decades-old claim, that's untrue. But it seems highly unlikely that the bureau will investigate because the GOP senators who stood up for Ford days ago appear to have accepted their colleagues' claims that they've done enough to accommodate her.
During an interview with a Maine radio show on Wednesday, Senator Susan Collins dismissed calls for a further investigation by the FBI, saying that "reverses the normal order of things." She said Ford and Kavanaugh both need to testify under oath on Monday.
"I don't think she can reject all those options because otherwise there are these very serious allegations hanging over the head of a nominee who has emphatically denied them," Collins said. "That's just not a good way for us to end. So I think she needs to come forward, and we need to provide her with any protection she may ask for herself and her family."
Flake has said repeatedly that he wants to hear from Ford, and he called Donald Trump Jr.'s Instagram post mocking the situation "sickening." But Flake has also indicated that if Ford doesn't show up on Monday, the vote should proceed. Corker agreed:
Murkowski dodged when CNN asked about reopening the background-check process. "I think that an allegation has been made by Dr. Ford. I think her story deserves to be heard and the committee process has been made available to her," she replied.
With key Republican senators signaling that they're satisfied with Grassley's current plan, GOP leaders seemed more upbeat about Kavanaugh's prospects on Wednesday. "We're very confident," one Republican in touch with the White House told Politico when asked if the judge would be confirmed.
White House Spokesman Raj Shah said the administration is "full steam ahead" on supporting Kavanaugh, and the president isn't looking at potential replacement nominees. Advisers reportedly told Trump to be cautious in his statements on Ford's allegation, and he's been unusually restrained. But on Wednesday he went further in expressing his sympathy for the judge.
"I can only say this, he is such an outstanding man, very hard for me to imagine that anything happened," Trump said, adding that he "has been treated very, very tough."
While Trump responded to his own sexual misconduct allegations by attacking his accusers, he's refrained from going after Ford, and even said he wants her to testify. While Trump was on message for once, on Wednesday Nevada Senator Dean Heller accidentally suggested that the GOP isn't taking Ford's sexual assault allegation all that seriously. During a call organized by the Nevada Republican Party, Heller indicated that he's certain Kavanaugh will soon be confirmed.
"We got a little hiccup here with the Kavanaugh nomination," he said. "We'll get through this and we'll get off to the races."