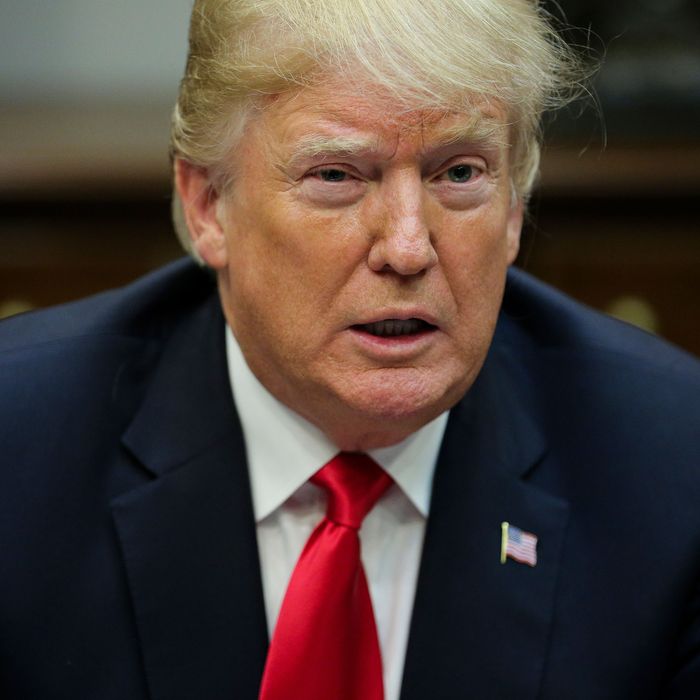 Willing to bet the midterms that Trump's bluffing on a government shutdown this particular time?
Photo: Oliver Contreras - Pool/Getty Images
With the end of the fiscal year (and hence appropriations for keeping the federal government running) just nine days away, congressional Republicans are poised to clear a bill for the president's signature that includes paired appropriations for defense and a big chunk of domestic agencies and —crucially — a "continuing resolution" extending current funding until early December for all agencies not otherwise covered in appropriations bills. The package passed the Senate by a 93–7 vote, and the leaderships of both parties in the House support it as well.
The agencies benefiting from the CR would include the Department of Homeland Security. So this approach would punt any big confrontation between the president and Congress over funding for his pet border wall project — which Democrats aren't going to support under any foreseeable circumstances — until after the midterm elections. And that's nearly as important to congressional Republicans — who universally hate the idea of a preelection government shutdown — as the defense/domestic funding deal that makes up the bulk of the deal headed to Trump's desk.
Guess who's suddenly looking like he's not onboard with this approach?
The Military Times, ready to pop the Champagne over the defense spending agreement, is nervous:
If House members agree to the deal next week — and leaders from both parties have already signaled they will support it — the plan will mark the first time in 10 years that the defense budget has been finalized before the new fiscal year, which starts on Oct. 1.




If Trump's comments scuttle those House plans, or if Trump decides to veto the measure, it would trigger a partial government shutdown at the end of the month instead of the legislative victory lap that lawmakers had been anticipating.
But House Republicans, the immediate object of Trump's temper tantrum, are basically putting their fingers in their ears and saying "La la la can't hear you," as Roll Call observes:
"There won't be a shutdown," said Idaho Rep. Mike Simpson, a GOP appropriator. When pressed on where his confidence was coming from given Trump's rhetoric to the contrary, he said "the fact that we won't have a shutdown" and declined to elaborate further.
Trump has reportedly assured Speaker Paul Ryan that he won't shut down the government over border wall funding. But he's gone back and forth on this issue all year long, most notably on the day in March when he signed the current fiscal-year spending bill while promising it would be the last time he deferred to congressional dealmaking on appropriations.
Congressional Republicans are getting dangerously close to calling their beloved president a paper tiger when it comes to his border wall fetish:
Oklahoma Rep. Tom Cole said he thinks the shutdown threat is an empty one and that Trump will sign the spending bills Congress sends him because a lot of it reflects his priorities and his values.




Asked why Trump would tweet that he's willing to shut down the government over immigration, Cole said, "You'll have to ask him that. I'm not here to psychoanalyze the president."
Underlying this strange intra-party struggle is a clear difference of opinion between Hill Republicans and POTUS over the politics of the issue. Representative Bill Flores told Roll Call: "It would be suicide to have a shutdown, it'd just be dumb." Trump very clearly thinks anything that dramatizes his commitment to border security will goose turnout from his base.
There may even be in the back of Trump's mind a desire to openly screw over congressional Republican leaders on this issue, as a way to return to the triangulating anti-Washington message he deployed in 2016. That may seem an odd way to protect his party's control of Congress, but it's rational insofar as "energized" MAGA voters who turn out to save POTUS's wall aren't likely to vote for Democrats once they're at the polls.
In the end Trump will probably back down, muttering again that this will be the last time that happens. But his allies on Capitol Hill might want to do a better job of hiding their disdain for his threats.