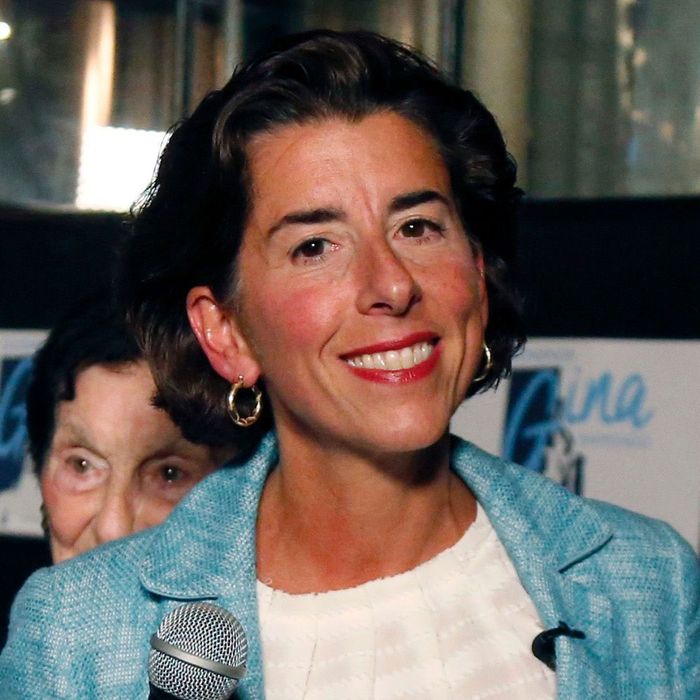 Governor Gina Raimondo was considered vulnerable to Matt Brown's left-bent challenge. But she won easily.
Photo: Elise Amendola/AP/REX/Shutterstock
In the penultimate primary elections of 2018, in Rhode Island, another Struggle for the Soul of the Democratic Party transpired. But this time there was no victory for progressive insurgents. Incumbent governor Gina Raimondo easily dispatched former secretary of State Matt Brown, and will move on to a general election rematch with Cranston Mayor Lee Fung.
The Harvard-educated former Rhodes Scholar and venture capitalist also seemed to epitomize the sort of technocratic Clinton-era centrist that many of today's progressives blame for ruining the Democratic Party. Raimondo earned the ire of public-sector unions and many progressive activists by advocating (as state treasurer and then as governor) state pension reforms that included a shift from defined benefits to defined contributions, the prevailing private-sector trend.
Brown, backed by Justice Democrats and promising to reverse many of Raimondo's policies, called her "probably the most extreme corporatist Democrat in the country." In a state with a tradition of strong grassroots progressive activism, and with no public polling to indicate otherwise, an upset seemed entirely possible. But Raimondo, who vastly outspent Brown, won by a 57/34 margin.
The incumbent is not home free, though. In 2014 she won by a plurality over Fung with a quirky third-party candidate winning 22 percent. This time the most prominent independent candidate is a Trump supporter. But one of the few public polls shows her with a narrow lead over Fung, who won a primary over a rival criticizing his insufficient conservatism.
By winning her primary, Raimondo became the 13th woman — and the 11th Democratic woman — to win a gubernatorial nomination this year. That will likely be the final number unless Cynthia Nixon pulls off a miracle in New York tonight.