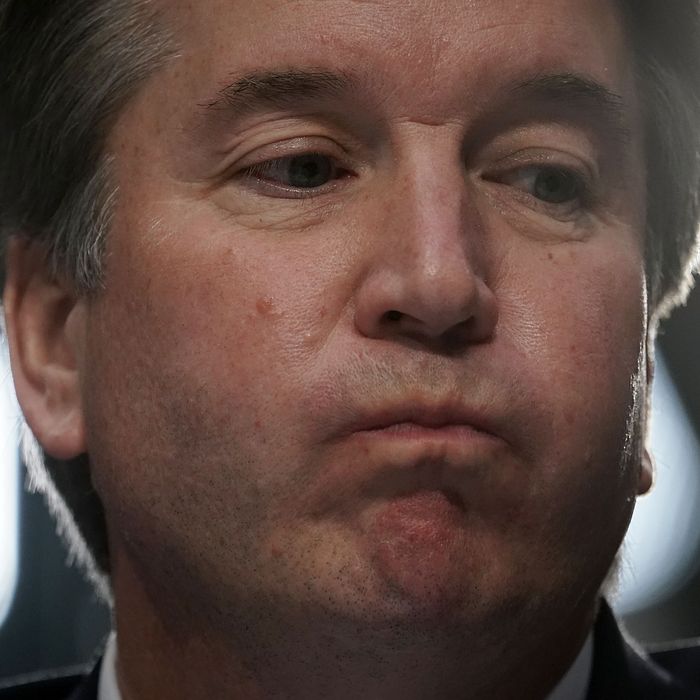 Brett Kavanaugh's supporters are getting desperate.
Photo: Alex Wong/Getty Images
It didn't take long Sunday night for the Republican National Committee to attempt to discredit Deborah Ramirez, the Yale classmate of Brett Kavanaugh's who has accused the Supreme Court nominee of sexual misconduct. Hours after The New Yorker published Ramirez's allegation of Kavanaugh thrusting his penis in her face at a college party, the RNC fired off an email outlining "7 very serious problems with the New Yorker story."
The list of talking points demonstrating "very serious veracity issues" with the article, written by Ronan Farrow and Jane Mayer, includes the lack of witnesses placing Kavanaugh at the party, Ramirez's one-time best friend knowing nothing of the story, and the six days it apparently took Ramirez to feel "confident enough of her recollections" to talk to reporters.
The fifth point on the RNC's list stands apart from the others though, because it's the only one that questions Ramirez's motives. Though she told The New Yorker she was not "politically motivated" to share her story, the RNC presented other details that, they think, call this into question. Specifically, that Ramirez is a registered Democrat and that she "works toward human rights, social justice, and social change."
In this context, working toward "human rights, social justice, and social change" is a negative quality. The RNC is suggesting that a dedication to such things inherently puts one at odds with the GOP. We already knew that, of course, but it's nice to see the RNC admit it.