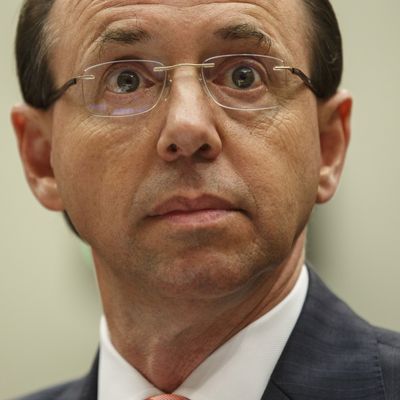 Has the Rod been spared?
Photo: Joshua Roberts/Bloomberg via Getty Images
Reports of Rod Rosenstein's ouster have been greatly exaggerated.
After hours of reports from several publications that the deputy attorney general had either offered his resignation or was expecting to be fired imminently, it appeared on Monday afternoon that he is still on the job, at least for another few days.
Rosenstein is expected to meet with Trump to discuss his future at the Department of Justice on Thursday, which just happens to be the same day Brett Kavanaugh and Christine Blasey Ford are scheduled to testify before the Senate Judiciary Committee.
Axios was the first to report on Monday morning that Rosenstein had tried to tender his resignation to White House chief of staff John Kelly. The Washington Post, Bloomberg, and CNN also reported that Rosenstein had done so. Other outlets reported that Rosenstein had been summoned to the White House, where he was expected to be fired.
The distinction is important because of rules that kick in based on the manner of Rosenstein's ouster.
Since Attorney General Jeff Sessions recused himself, Rosenstein has overseen Special Counsel Mueller's investigation into Russian interference in the 2016 election. Because he has firmly defended the Mueller probe from President Trump's repeated attacks against it, his job has been in jeopardy for months. But Friday's New York Times report that he discussed the possibility of wearing a wire to record incriminating statements made by Trump and invoking the 25th Amendment to remove the president, seemed (temporarily) to have sealed his fate. Rosenstein was expected to have to testify before Congress about those conversations.
If Rosenstein does quit or is fired, it's not entirely clear who would take charge of the Mueller probe. A Justice Department official told the Times that it would be overseen by Solicitor General Noel Francisco, who has been skeptical of special counsel investigations in the past, but there are questions about whether he might recuse himself from the investigation.