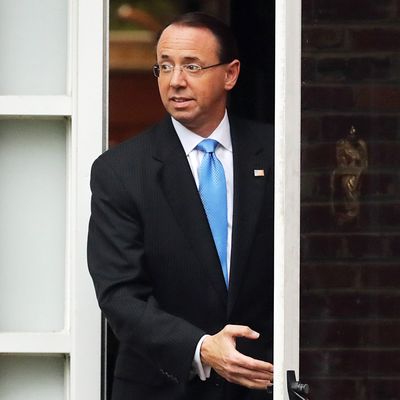 Every Rosenstein has its thorn.
Photo: Chip Somodevilla/Getty Images
Rod Rosenstein would not "go quietly." If Donald Trump wanted to part with his deputy attorney general, he was going to have to utter his signature catchphrase. Or so Pete Williams of NBC News reported Monday morning. And while other outlets had heralded Rosenstein's imminent resignation, NBC's account seemed more credible.
After all, why would the man who had launched Robert Mueller's investigation clear the way for its untimely death? If Rosenstein tendered his resignation, Trump could unilaterally replace him with a crony. The Federal Vacancies Act empowers the president to temporarily move any member of his Cabinet into an open administration position — without Senate approval — so long as said vacancy was created by a death or resignation (and not a firing). Which is to say: If Rosenstein offered to quit for the crime of making jokes at the president's expense last year, then deputy AG Ben Carson (or whomever) could euthanize the federal investigation into Trump's campaign by starving Mueller's team of funds and denying them access to vital documents. By contrast, if Rosenstein forced Trump to fire him, then the Senate confirmation process — and inevitable political backlash — might constrain the president's efforts to put himself above the law.
Thus, the choice facing Rosenstein looked like an easy one: Stand strong to protect the republic from authoritarian assault — or resign, to protect himself from angry Trump tweets.
Alas, according to the New York Times, Rod opted for Door No. 2:
Even for an administration famous for chaos and rival factions, Monday's events offered a remarkable display of the anxiety gripping the Trump administration after a New York Times report on Friday said that Mr. Rosenstein had considered secretly taping the president and had discussed using the 25th Amendment to remove him from office.




By Friday evening, concerned about testifying to Congress over the revelations … Mr. Rosenstein had become convinced that he should resign, according to people close to him. He offered during a late-day visit to the White House to quit, according to one person familiar with the encounter, but John F. Kelly, the White House chief of staff, demurred … [O]ver the weekend, Mr. Rosenstein again told Mr. Kelly that he was considering resigning. On Sunday, Mr. Rosenstein repeated the assertion in a call with Donald F. McGahn II, the White House counsel.




… At the White House [Monday], the deputy attorney general slipped into a side entrance to the West Wing and headed to the White House counsel's office to meet with Mr. McGahn, who had by then been told by Mr. Kelly that Mr. Rosenstein was on his way and wanted to resign.




Mr. Rosenstein was emotional, according to people familiar with his meeting with Mr. McGahn. Mr. Rosenstein wanted to leave on amicable terms, not in a manner that would trigger an angry Twitter tirade from Mr. Trump.



All reporting on this affair should be taken with a few grains of salt. But on the face of it, Rod Rosenstein appears to be more afraid of the Freedom Caucus and Donald Trump's Twitter feed, than of abetting an attack on the rule of law in the United States.
The deputy attorney general is set to meet with Trump on Thursday to discuss last week's Times report, and his future in the administration. If Rosentein voluntarily clears out his desk afterward, let's hope the resistance resists the urge to set up a GoFundMe.