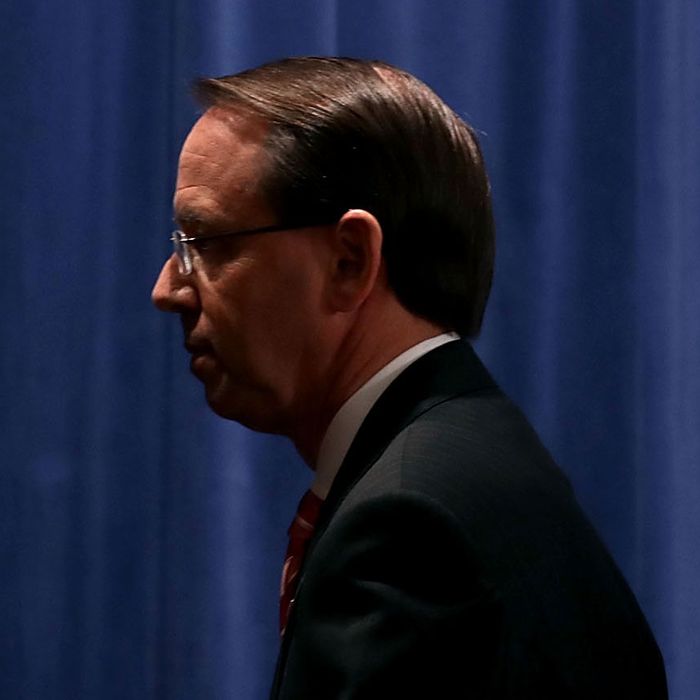 Deputy Attorney General Rod Rosenstein
Photo: Chip Somodevilla/Getty Images
President Trump has been itching for months to fire Rod Rosenstein, the Department of Justice official overseeing the Mueller investigation, but has been held back by the apparent reluctance of some leading Republicans. The New York Times has handed Trump his pretext: an explosive story alleging that Rosenstein proposed wearing a wire to secretly surveil Trump, and that he discussed recruiting officials to remove Trump from office via the 25th Amendment of the Constitution.
It is difficult to evaluate this story outside the context of an impending threat to the rule of law and the crisis it may well trigger. Numerous sources have described Rosenstein as having been engaged in idle black humor. "I remember this meeting and remember the wire comment. The statement was sarcastic and was never discussed with any intention of recording a conversation with the president," one source tells Politico.
The Washington Post has even more detail that seems to cast doubt on the earnestness of the remark: "That person said the wire comment came in response to McCabe's own pushing for the Justice Department to open an investigation into the president. To that, Rosenstein responded with what this person described as a sarcastic comment along the lines of, 'What do you want to do, Andy, wire the president?'" The Post also notes that another FBI official, Lisa Page, attended the meeting and did not record the 25th Amendment remark, suggesting it was in jest.
The Times has been spun by sources before — most infamously, in its 2016 preelection report declaring that the FBI saw no link between Russia and Trump, and that Russia was not trying to help Trump win. It is the greatest newspaper in the world, and I would urge everybody to subscribe, but its reporters are fallible. And because of its prestige, its errors have potentially world-changing consequences.
It is also possible the Times' framing is accurate, that Rosenstein actually intended the absurdities he proposed in earnest, and that the sources pushing back so hard are spinning precisely because they fear the consequences of Rosenstein being fired. This story, as well as previous ones, have depicted him as distraught in the face of Trump's bizarre behavior. It is not unimaginable that Rosenstein has been pushed at times into irrationality.
In ordinary circumstances, a report like this would constitute a legitimate firing offense, regardless of how seriously the remarks were intended. But these are not ordinary circumstances. Normal presidents do not habitually inspire members of their administration, including ones they appointed, to whisper about declaring them mentally unfit for office and removing them through the 25th Amendment (as an anonymous official revealed.)
Most importantly, Trump has made his intention perfectly plain. He believes he is entitled to start or stop any federal investigation at his own whim, and he has recruited a large segment of the conservative movement — crucially including Fox News and most of his base — to that belief. Fox News luminaries who have Trump's ear, such as Laura Ingraham and Jeanine Pirro, are calling for the president to terminate Rosenstein immediately. If Rosenstein is fired, there is little to stop Trump from bringing his dream to fruition.
Rosenstein is nobody's conception of a hero chosen by history. He erred by helping justify Trump's firing of James Comey, and at some level he erred by at least joking about taking wild steps against the president. He has not acted from the outset with the cautiousness and seriousness of purpose required of a person tasked with his awesome responsibility. But Rosenstein is what we have right now, and with the rule of law hanging by a thread, his defense is vital.