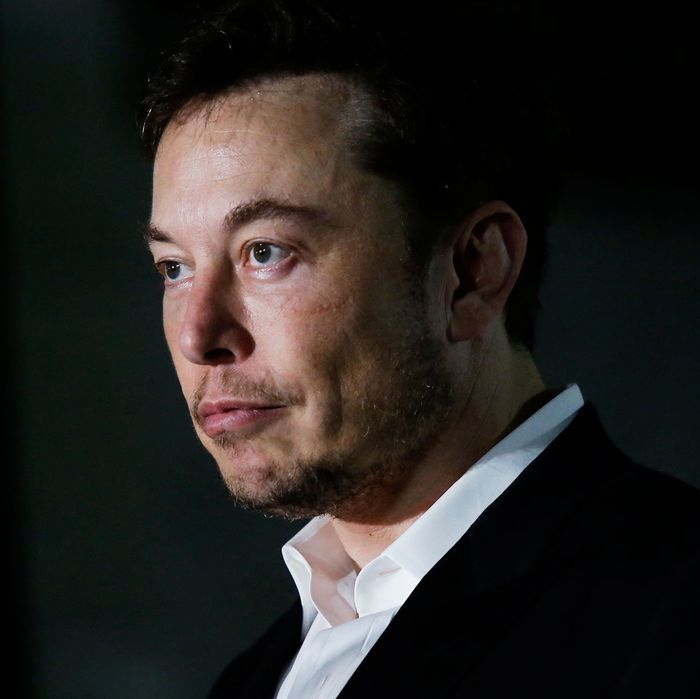 Elon Musk.
Photo: Joshua Lott/Getty Images
Elon Musk has long been a cautionary tale against not tweeting if you don't have to. (The ongoing saga of the "pedo" rescue diver comes immediately to mind.) Today's latest in that tale is the strongest case against not-tweet yet: The SEC is suing Musk for fraud citing "false and misleading statements." More specifically, that time in August he tweeted, "Am considering taking Tesla private at $420. Funding secured."
"From the time of Musk's first tweet that day until the close of trading on August 7, Tesla's stock price increased by more than 6% on significantly increased volume and closed up 10.98% from the previous day," the SEC explains in its complaint, first reported by Bloomberg. The SEC filed the complaint in federal court in New York on Thursday. Two Tesla executives also departed the company amid the falling stock prices following Musk's tweets. Shares fell seven percent on Thursday following news of the complaint, CNBC reports.
The complaint also follows a drawn-out saga involving Elon Musk's girlfriend Grimes and Azealia Banks. Banks said she was invited to one of Musk's homes to collaborate on music with Grimes but the pair were not there when she arrived and did not arrive for several days. When they finally did, Banks alleges she heard Musk talking about how he did not actually have the funding he claimed to have on Twitter.
In Thursday's complaint, Musk said he'd priced the shares at $420 because he thought Grimes would laugh at the joke. (If you do not get this, please google "420 blaze it" and return to reading.)
From the complaint:
According to Musk, he calculated the $420 price per share based on a 20% premium over that day's closing share price because he thought 20% was a 'standard premium' in going-private transaction This calculation resulted in a price of $419, and Musk stated that he rounded the price up to $420 because he had recently learned about the number's significance in marijuana culture and thought his girlfriend 'would find it funny, which admittedly is not a great reason to pick a price.'
The terms of the suit seek to bar Musk from serving as CEO of Tesla, but also ban him from serving as an officer of any public company. There could also be fines involved.