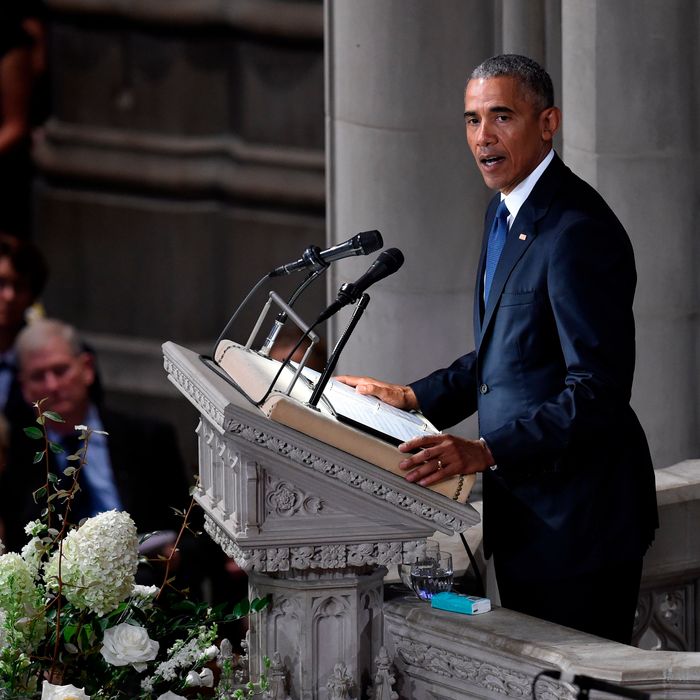 President Obama delivers remarks on Saturday.
Photo: Saul Loeb/AFP/Getty Images
One week after his death, Senator John McCain's life was celebrated by a bipartisan collection of Washington's political elite — with President Trump notably excluded — during a memorial service held at the National Cathedral in Washington, D.C. The speakers, who included former presidents George W. Bush and Barack Obama, praised McCain's patriotism, bravery, and bipartisanship. And, often by simply articulating the values he stood for, they created a powerful contrast between the man they were eulogizing and the current commander-in-chief.
Below, some of the notable remarks and scenes from the event:
Meghan McCain Pays Teary Tribute and Rebukes Trump
John McCain's daughter frequently fought back tears as she framed her remarks around what her father loved: his family, friends, and most of all, his country. Her speech also served as a an unsubtle critique of President Trump and his nativist worldview. The distinctions she drew between McCain and Trump — whom she did not name — were at times stark:
"The America of John McCain," she said, "is generous and welcoming and bold," describing the country as "confident, resourceful, and secure." America, she explained, "does not boast because she has no need to."
Her next line earned a loud round of applause from the cathedral's audience: "The America of John McCain has no need to be made great again because America was always great."
Joe Lieberman Celebrates McCain's Bipartisanship
Former senator Joe Lieberman, a longtime close friend of McCain's, told stories that focused on his compassion, humor, and defense of democracy. Lieberman, the Democrat-turned-independent whom McCain once asked to be his presidential running mate, also took the opportunity to decry the partisanship that has gripped American politics in recent years. Lieberman suggested that McCain's death had temporarily put a stop to such rancor, and took a veiled shot at President Trump.
[McCain's] death seems to have reminded the American people that these values are what makes us a great nation. Not the tribal partisanship and personal attack politics that have recently characterized our life. This week's celebration of the life and values and patriotism of this hero, I think have taken our country above all that. In a way it's the last great gift that John McCain gave America. And I want to suggest today that we can give a last great gift to him, which is to nurture these values and take them forward into the years ahead to make America the better country John always knew it could be.

 
Lieberman's celebration of the way McCain "reached across party lines because knew that was the only way to solve problems" also coincided with a fitting moment in the crowd:
Bush Emphasizes McCain's Commitment to Freedom
George W. Bush, who battled McCain for the 2000 Republican nomination, said that McCain "loved freedom with a passion of a man who knew its absence. He respected the dignity inherent in every life, a dignity that does not stop at borders and cannot be erased by dictators.
Perhaps above all, John detested the abuse of power. He could not abide bigots and swaggering despots. There was something deep inside him that made him stand up for the little guy, to speak for forgotten people in forgotten places."
Bush also reflected on his own history with McCain.
"For John and me, there was a personal journey," Bush said. "Our hard-fought political history. Back in the day, he could frustrate me. And I know he would say the same thing about me. But he also made me better."
Obama Commends McCain's Patriotism
In the day's final remarks, former President Obama sounded a familiar theme about his former rival: his embrace of patriotism over partisanship. As with the previous speakers, Obama's remarks could be seen as commentary on the current occupant of the White House, who embodies a very different set of values.
Obama said there was a "certain surprise" when McCain called him and asked that he speak at the memorial service, but that the request typified McCain's unpredictability and mischievousness: "What better way to get a last laugh than make George and I say nice things about him to a national audience?"
Obama also joked about McCain's famous temper: "when it flared up, it was a force of nature, a wonder to behold," he said. "His jaw grinding, his face reddening, his eyes boring a hole right through you — not that I ever experienced it firsthand, mind you."
But, he continued, "to know John was to know that as quick as his passions might flare, he was just as quick to forgive and ask for forgiveness. He knew more than most his own flaws, and his blind spots, and he knew how to laugh at himself. And that self-awareness made him all the more compelling.
After Obama's remarks, Renée Fleming sang "Danny Boy," — a song McCain had requested.
Trump Tweets About Himself
President Trump was not invited to McCain's service at the request of McCain himself — though multiple members of his administration did attend. They included Ivanka Trump and Jared Kushner, as well as White House Chief of Staff John Kelly and National Security Adviser John Bolton.
Trump, who has infamously mocked McCain's service in Vietnam, spent Saturday morning sending tweets about his ongoing legal troubles (while somehow misspelling Barack Obama's name) and threatening to withdraw from NAFTA.
He then left the White House for a familiar destination.
Images From the Events
Below are more photos of Saturday's events honoring John McCain: