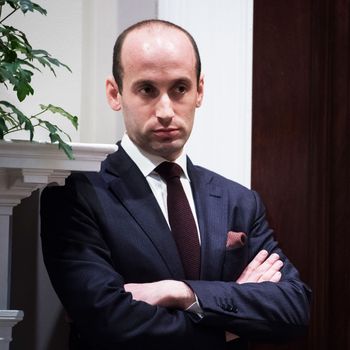 Is the extremist Stephen Miller now Donald Trump's closest adviser?
Photo: Jabin Botsford/The Washington Post/Getty Images
There have been a remarkable array of theories about the identity of the person or persons who penned the anonymous New York Times op-ed confessing to a intra-administration plot to keep the president from running the country into the ground. But there is general agreement on one point: if the author was trying to further the cause of Trump Control by going public, it was a major miscalculation, as Politico reported last week:
What this person did is badly hurt the effort to rein in Trump … and it will make him crazy," said a Republican close to the White House. "Now, if you say to the president, 'I see where you're heading, but I'm not sure about that' — he's going to think, 'Ah, you wrote that.'"
And now, sure enough, Gabriel Sherman reports that the op-ed has compounded the already high levels of presidential paranoia created by Bob Woodward's scathing insider book about life in this White House:
Sources told me Trump is "obsessed," "lathered," and "freaked out" that the leaker is still in his midst. His son Don Jr. has told people he's worried Trump isn't sleeping because of it, a source said. Meetings have been derailed by Trump's suspicion. "If you look at him the wrong way, he'll spend the next hour thinking you wrote it," a Republican close to the White House said. 
But even in a place as demon-infested as Donald Trump's mind, nature abhors a vacuum. And so the president's withdrawal of trust from most of the people around him has a beneficiary:
Besides family, one of the only people Trump continues to trust is Stephen Miller. "The op-ed has validated Miller's view, which was also Steve Bannon's, that there's an 'administrative state' out to get Trump," a Republican close to the White House said. "There is a coup, and it's not slow-rolling or concealed," Bannon told me. "Trump believes there's a coup," a person familiar with his thinking said. 
Miller has already distinguished himself by his ability to keep his head down and avoid the many power struggles and personality conflicts in the Trump White House — while protecting and expanding his own influence over policy matters, particularly (though not limited to) his signature issue of immigration. But it is more than a little scary to think of one of the most powerful people on earth placing so much of his trust in a young man who cut his teeth in politics as a professional right-wing troll before beginning his official career with the hyperextremist Michele Bachmann. If Trump ignores all the advice he has been given by his fellow Republicans and lurches into a border wall or "criminal aliens" frenzy right before the midterms, we will know that it is finally and surely Miller Time in the Trump administration.