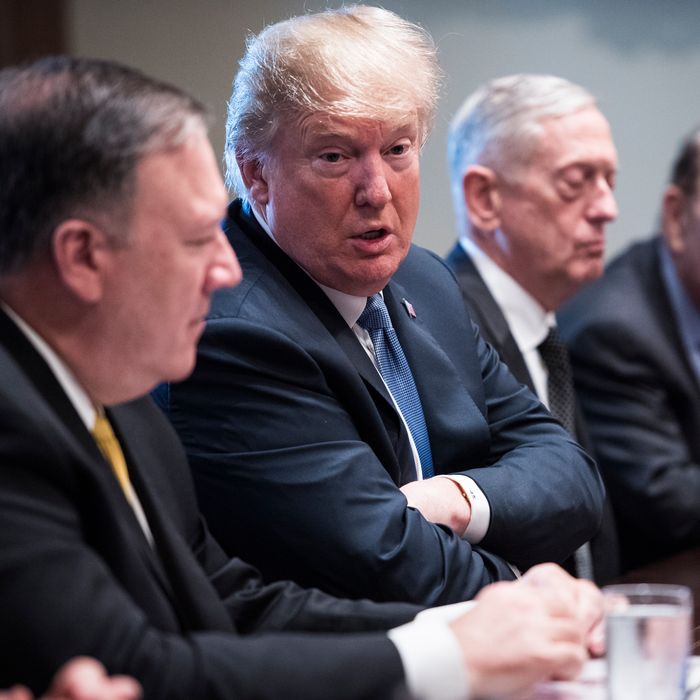 "Solid plan, glad I thought of it."
Photo: The Washington Post/The Washington Post/Getty Images
In the wake of an anonymous senior White House official claiming in a New York Times op-ed that they're part of an anti-Trump "resistance" within the administration, the president has reportedly been fretting over the lack of convincing pushback from top staffers, and has taken to grousing about whether his new communications director Bill Shine is doing enough to shape public perception.
Meanwhile, there's more to add to the mounds of evidence that Trump's staff doesn't listen to him, and it has nothing to do with the op-ed or Bob Woodward's forthcoming book. Five months after Trump said the U.S. would be leaving Syria "very soon," and two months after he and Russia's Vladimir Putin suggested they could be partners in handling the situation in Syria, U.S. officials said the military effort there is being extended indefinitely, due partly to concerns about Russia.
Back in March, President Trump seemed to announce a new Syria policy without notifying anyone else in government. "We're coming out of Syria, like, very soon," he said. "Let the other people take care of it now. Very soon — very soon we're coming out." When top officials pushed back, saying they needed time to ensure that ISIS wouldn't reemerge in the region, Trump reportedly relented, saying they could have five or six months to wrap up the mission. Sources said he cautioned that he didn't want to hear in October that the military hadn't been able to fully defeat ISIS and needed to stay.
Trump shifted his public tone on Syria within a matter of weeks, as the U.S. and its allies launched missile strikes against Syria in April over a chemical attack against civilians in the city of Duoma. Yet the goal remained to have the roughly 2,200 U.S. troops in Syria exiting sometime this fall.
On Thursday James Jeffrey, a retired senior Foreign Service officer who was recently named Secretary of State Mike Pompeo's "representative for Syria engagement," told reporters there's been a change of plans. "The new policy is we're no longer pulling out by the end of the year," he said. As the Washington Post explains, the Trump administration has adopted a broader mission that could keep troops in Syria indefinitely:
Although the military campaign against the Islamic State has been nearly completed, the administration has redefined its goals to include the exit of all Iranian military and proxy forces from Syria, and establishment of a stable, nonthreatening government acceptable to all Syrians and the international community.
Part of the motivation for this change is uncertainty about whether Russia is willing or able to help get Iran – which along with Russia is Syrian President Bashar al-Assad's closest ally – out of the country. Jeffrey said there will be a "major diplomatic initiative" to stabilize conditions in Syria in the coming weeks, but he would not describe the military mission, other than to say that they must ensure an "enduring defeat" of ISIS. "That means we are not in a hurry," he said.
As for Trump's take on the reversal, Jeffrey said, "I am confident the president is on board with this."
While it's hard to be sure of the depth of Trump's engagement on Syria policy considering his quick reversals in recent months, he was part of an effort by U.S. officials this week to warn the Syrian regime and its allies not to use chemical weapons or target civilians as they prepare for an assault on Idlib province, the last rebel stronghold. Russian warplane were already bombing the region, which holds about 70,000 opposition fighters and 2 million Syrian civilians, in recent days.
"If it's a slaughter, the world is going to get very, very angry. And the United States is going to get very angry, too," Trump said Wednesday.
Russia, which has been building up forces in the region, said it's only targeting al-Qaeda fighters, and accused the U.S. of preparing to fake a chemical attack to justify new intervention.
Jeffrey said the U.S. is taking a tougher stance and will not tolerate an all-out attack on the region.
"Any offensive is to us objectionable as a reckless escalation" he said. "You add to that, if you use chemical weapons, or create refu­gee flows or attack innocent civilians," and "the consequences of that are that we will shift our positions and use all of our tools to make it clear that we'll have to find ways to achieve our goals that are less reliant on the goodwill of the Russians."
It's unclear if Trump approves of such tough talk about the Russians, or if it matters.