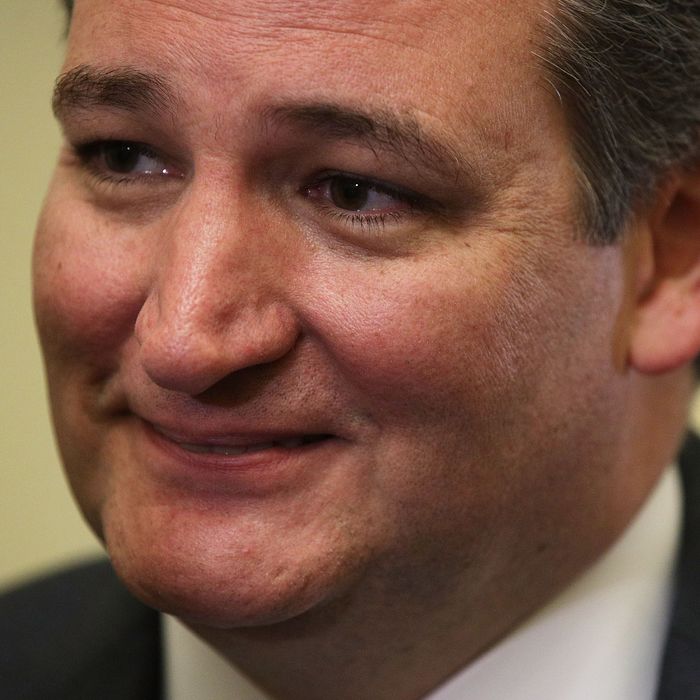 Ted Cruz had to find another place to eat dinner Monday.
Photo: Alex Wong/Getty Images
Texas senator Ted Cruz was chased from a Washington, D.C., restaurant Monday night by a group of protesters shouting about Supreme Court nominee Brett Kavanaugh.
"We believe survivors," the protesters yelled at Cruz, as seen in a video tweeted by Smash Racism DC. They continued yelling as Cruz and his wife made their way to the exit. "Beto is way hotter than you, dude," said one protester, referencing Beto O'Rourke, the congressman surprising Cruz with a strong challenge in the Senate race in Texas.
Another video shows a woman who identifies herself as a constituent of Cruz's asking how he plans to vote on Kavanaugh's confirmation. "God bless you, ma'am," he says back to her.
Though Cruz did not intially want Kavanaugh nominated to the Supreme Court, he's warmed to the judge since President Trump tapped him. That was evident during Kavanaugh's initial confirmation hearing, when Cruz used his alloted time to ask Kavanaugh about playing basketball on the fifth floor of the United States Supreme Court Building.
But Cruz has measured his remarks since sexual misconduct allegations against Kavanaugh surfaced. The challenge from O'Rourke no doubt has something to do with that. The Texas Tribune described Cruz's "delicate dance":
Female voters and candidates are proving to be a key demographic to the Democratic effort to take control of both chambers of Congress.




Should Cruz not support Kavanaugh forcefully enough, he could alienate his conservative base. But pushing too hard to support Kavanaugh could turn off Republican female voters who are sympathetic to Ford and her allegations.
So Cruz, it seems, is hiding out in ritzy Capitol Hill restaurants where the tasting menu starts at $115. O'Rourke, meanwhile, is playing air drums in the Whataburger drive through.