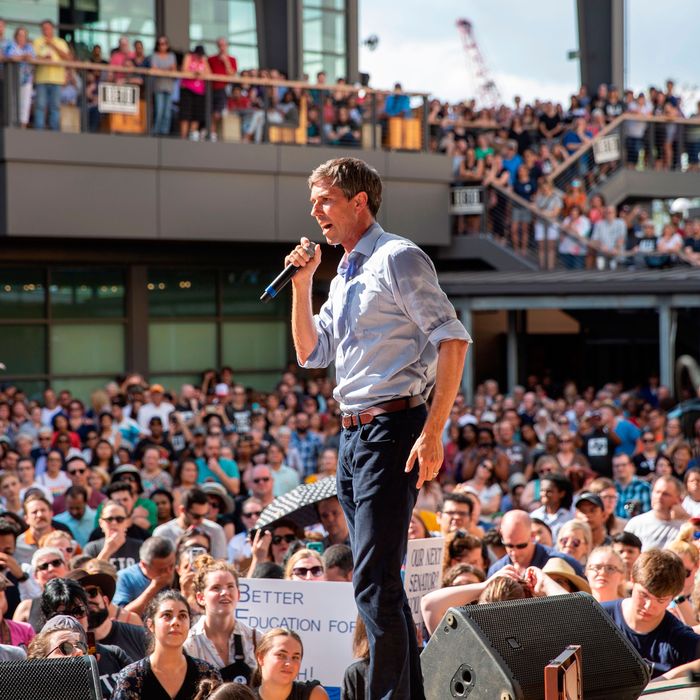 Beto believe it.
Photo: Laura Buckman/AFP/Getty Images
Beto O'Rourke is closing in on the Zodiac Killer. For months now, Ted Cruz's Democratic challenger has been racking up Facebook followers and piling up campaign cash. O'Rourke has routinely out-fundraised the Republican incumbent — despite refusing to take PAC money — as he's made his presence known in all 254 counties of the Lone Star State and on every major social-media platform in cyberspace. Somehow, he even persuaded the Texas Republican Party to dedicate an entire Twitter campaign to how cool he was in high school.
All this was more than enough to make O'Rourke a resistance hero — and Cruz, visibly nervous — but it still wasn't quite sufficient to put Beto neck-and-neck with Texas's junior senator.
Until now.
This week, for the first time ever, a major pollster found O'Rourke leading Cruz, while another depicted the race as a statistical tie. Those surveys remain outliers — judging by the polls alone, Cruz still boasts a significant (if not quite comfortable) average lead of about 4.5 percent. But the Cook Political Report does not base its forecasts primarily on public polls. Rather, the reputable election prognosticator rates races on the basis of its conversations with strategists in both parties, as well as campaigns' internal polling. And this week, such conversations led Cook to revise its expectations for the Cruz-O'Rourke contest: Now, the forecaster no longer considers the race "lean Republican," but rather, a "toss-up."
Cook staffer Jennifer E. Duffy offers this more detailed analysis:
GOP U.S. Sen. Ted Cruz isn't terribly popular, and while that might not necessarily be a problem is a red state, Democratic U.S. Rep. Beto O'Rourke and his message have generated a great deal of enthusiasm among Democrats and independents, as well as Democratic donors across the country who have filled his campaign war chest. At this point, he has outraised Cruz and outspent him on television. A Toss Up rating makes both parties nervous: Republicans for obvious reasons and Democrats because it creates an expectation that they will start spending money on the race … O'Rourke has earned this rating, but getting the last couple of points to overtake Cruz and win the seat will be difficult though not utterly impossible.
So, it kinda sounds like Cook considers the race more of "lean lean Republican" than a jump ball. But that remains more than a little impressive, given the inherent advantages of incumbency and Texas's robustly red hue.
As to the broader battle for Senate control, Cook's forecast suggests that the two parties are running neck-and-neck in virtually all of this year's battlegrounds. Of the 26 Democrat-held seats up for grabs this fall, Cook rates four as toss-ups — Bill Nelson's in Florida, Joe Donnelly's in Indiana, Claire McCaskill's in Missouri, and Heidi Heitkamp's in North Dakota. The rest, Cook rates as either "lean Democrat" or better for Team Blue. Of the nine Republican seats on the ballot this November, meanwhile, Cook now classifies four as toss-ups, with Dean Heller's in Nevada, and the open seats in Tennessee and Arizona sharing that column with Cruz's in Texas.
Cook suggests that the three most likely outcomes of November's Senate election are, in order of probability:
1) The two parties will trade some seats, but Republicans will still hold 51 while Democrats hold 49.
2) Democrats will net one seat, but Republicans will still enjoy effective control thanks to Mike Pence's time-breaking vote.
3) Democrats will gain a 51-vote majority.
Considering that Team Blue is facing the most unfavorable Senate map that any party has confronted in American history, that's an awfully friendly forecast.