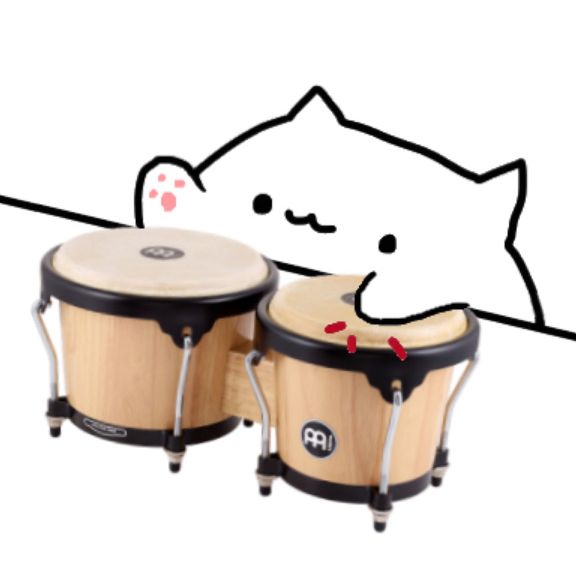 Photo: Screenshot via bongo.cat
Back in May, the web artist @StrayRogue posted a GIF of a cat on their Twitter feed. The GIF, only two frames long, showed a cat smacking a table with deadpan intensity. It was very cute.
Over DM, @StrayRogue explained that there wasn't really any significant motivation behind the image. It "was just something to show my friends and followers," they said. "I never really expected anything from it haha." It was just another image of Rogu, a blob-shaped cat (or cat-shaped blob?) that they had created.
But that cat has turned into something entirely different. In reply to @StrayRogue's drawing of a cat slapping the table, another meme artist named @DitzyFlama created Bongo Cat, editing bongos under the cat's paws and setting it to some music from the Super Mario series.
Over the summer, and particularly over the past couple of weeks, the Bongo Cat has grown into a video meme all its own. One in which video artists try to one-up each other with cute videos of the cat playing music, much to the delight of users everywhere. It feels very Vine, and because animation is still one of the media forms that require a bit of technical expertise to produce, every instance feels like a heartfelt addition to the meme. In the absence of Vine, it feels Vine-like.
In a brief Twitter thread, @StrayRogue clarified that they believe Bongo Cat to be a separate creature from Rogu, but was nonetheless pleased with what creative users had done with it. He told Select All, "I'm glad that it stayed wholesome. Some people have been really creative with the way they used the meme, actually, the fan-made songs are some of my favourites."
There's even an interactive web site, bongo.cat, that users can visit to mess around with the percussive feline.
In the face of mass-produced memes and what sometimes feels like an overbearing news cycle of garbage, Bongo Cat can be our light in the darkness: a simple cat, performing for you.