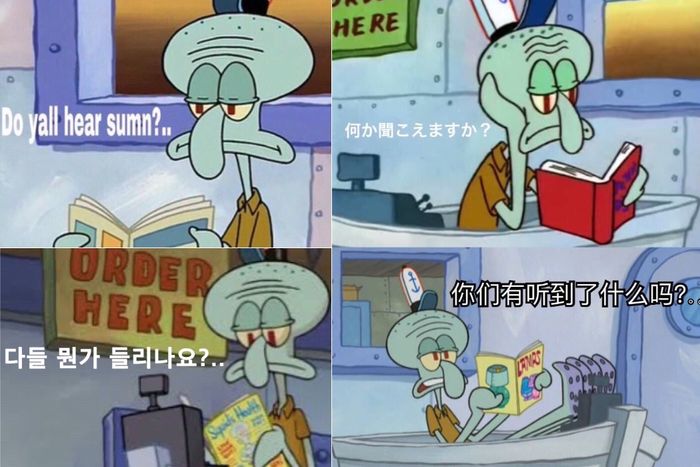 It's been a while, folks, but there's a new SpongeBob meme. Finally. When was the last SpongeBob meme? I can't even remember. The whole summer has been a blur. Anyway, there's a new one, featuring all of your favorites. SpongeBob, Squidward, the Pink Star — we all know them.
The new SpongeBob meme is aligned closely with "stan culture" — the way everyone on the internet gets sorted into a tribe based on a pop-culture property, and then they are tasked with defending that person or thing to the death. K-pop groups, boy bands, video-game consoles, divas: Each has an army of stans.
When these stans cross paths online, they often fight. Blood and tea spill across the battlefield. They debate who is better, who's worse, who is a skinny legend, who has the range, who did that, and so on forever.
Until now.
Here's how this meme — which I'm just gonna call "Do yall hear sumn?" — works. It's a simple two-step process. In the first step, something complimentary is said about something. In the second step, someone replies with a picture of a SpongeBob character pretending that they didn't hear it. The most prevalent of these image is Squidward sitting in the Krusty Krab.
Here it is in action, responding to a report that iPhones might, in some aspect, be inferior to Android phones.
Simple. But the meme has grown more complicated as users have found new way to deploy it on social media, and in particular, on Stan Twitter. I've seen international versions in Korean, Japanese, and Chinese. Crucially, rather than continually posting the same image of Squidward, users have begun to deploy simple variants using other characters. Here's a thread below a tweet from Apple Music, promoting a collaboration between Nicki Minaj and Tekashi 6ix9ine …
… Culminating in a "Do yall hear sumn?" from another animated program entirely.
There is something effective in caring about the act of not caring so much, and in how users each leapfrog over each other to make that point. That the meme has origins in SpongeBob SquarePants is somewhat ironic as well, given how many other SpongeBob memes are based on its characters' cartoon expressiveness. "Do yall hear sumn?" is a meme that even the expressionless extras of SpongeBob can take part in.
While most of these images appear in the context of online fandoms, they can also appear in more serious areas. Here's how users responded to footage of Parkland mass shooter Nikolas Cruz struggling in police detention.
A lot of recent discussion of how we talk to each other on social media has leaned on the idea of "bad faith," of knowing when someone is arguing with you solely to waste your time and with little interest in finding common ground. What "Do yall hear sumn?" conveys is that there are some discussions we don't need to have, and some stances and ideas that don't need to be entertained. In this particular moment, it's the meme we need.