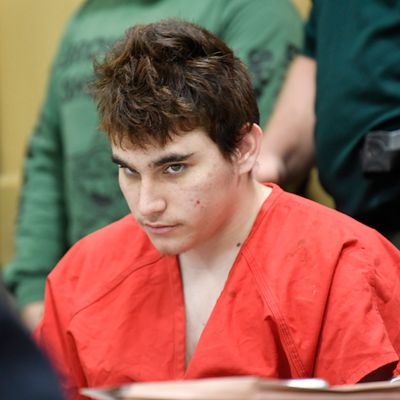 Nikolas Cruz has offered to plead guilty in exchange for life in prison.
Photo: Taimy Alvarez/TNS via Getty Images
Less than a month after Nikolas Cruz murdered 17 people at Stoneman Douglas High School in Parkland, Florida, Broward County prosecutors said they would try to make sure he was killed, too. His crime, the Broward state attorney said, was "cold, calculated, and premeditated" and prosecutors rejected Cruz's offer to plead guilty in exchange for a sentence of life in prison.
Broward public defender Howard Finkelstein said at the time that Cruz should not be put to death because the troubled teenager, known in his upscale Florida neighborhood for torturing pets and picking fights with other kids, gave off red flag after red flag, and all of them were missed.
"This kid exhibited every single known red flag, from killing animals to having a cache of weapons to disruptive behavior to saying he wanted to be a school shooter. If this isn't a person who should have gotten someone's attention, I don't know who is. This was a multi-system failure," Finkelstein said.
Now another line of defense may be emerging in the attempt to save Cruz from the death penalty, according to the Miami Herald, and it hinges on new information learned about his birth mother. Until recently, little was known about Brenda Woodard, who gave birth to Cruz in 1998 and gave him up for adoption almost immediately.
But in a sprawling article published today, the Herald says she was an oft-arrested "career criminal" who was "known as a one-woman wrecking crew among law enforcement and drug treatment circles in Broward County throughout the 1980s, 1990s and 2000s." This is expected to come up in court.
Experts in criminal law say the Broward Public Defender's Office will likely explore Cruz's genetic makeup and childhood development in their effort to keep the 19-year-old from being executed. His birth mother could be called to testify during the sentencing phase of his trial on 17 charges of first-degree murder and 17 charges of attempted murder.
"It is not necessarily her past, but how her past contributed to his genetic makeup," former prosecutor David S. Weinstein told the Associated Press. "Her use of drugs and alcohol while she was pregnant with him, and how her genetic makeup was passed on to him."
"It might not carry the day, but it will give the jurors another mitigating factor to consider," Weinstein said.
And it will only have to convince one. In Florida, a jury must recommend death unanimously, and even though the research suggesting a genetic component of criminal behavior is not strong, Woodard's record may be long enough to sway someone. At least, that appears to be the bet Cruz's lawyers will make.