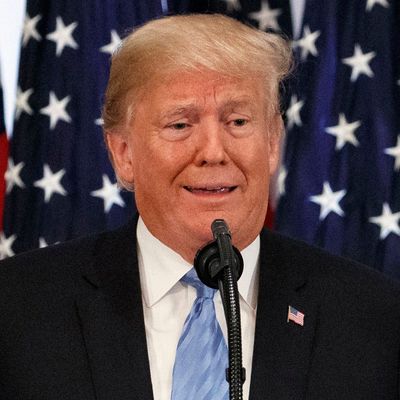 His truth is spoken.
Photo: Evan Vucci/AP/REX/Shutterstock
For the first time in ages, the president of the United States held an extended, solo press conference on Wednesday. The back-and-forth lasted for more than hour, throughout which the leader of the free world spouted baffling non sequiturs and defamatory insults at a rate of roughly five times per second.
Ultimately, though, there were six key takeaways from Donald Trump's discursions:
1) The Democrats are so unfair and partisan, they'd probably be reluctant to confirm a slaveholder to the Supreme Court in 2018.
"If we brought George Washington here, and we said we have George Washington, the Democrats would vote against him," Trump said. "And he may have had a bad past, who knows."
2) The sexual assault allegations against Brett Kavanaugh are a "big fat con job" — but also, the president will be watching Thursday's hearing with an open mind, and is ready to be persuaded that Christine Blasey Ford is telling the truth.
3) The president doesn't want to fire Rod Rosenstein because he has a good working relationship with him — but also, because he doesn't "want to get in the way of that very important Supreme Court pick."
4) If Donald Trump wasn't elected president, Barack Obama would have launched a nuclear war with North Korea, and millions of people would have died.
5) "Men don't like" the way that the Senate is handling the sexual assault allegations against Brett Kavanaugh, but women "are incensed at what's going on." (Specifically, they are incensed that the Senate is taking Ford's allegation seriously, instead of dismissing it as the con job that it is).
6) If a reporter informs you that he is Kurdish, you don't need to remember his name, and can simply refer to him as "Mr. Kurd" from that point forward, even if you are the president of the United States.