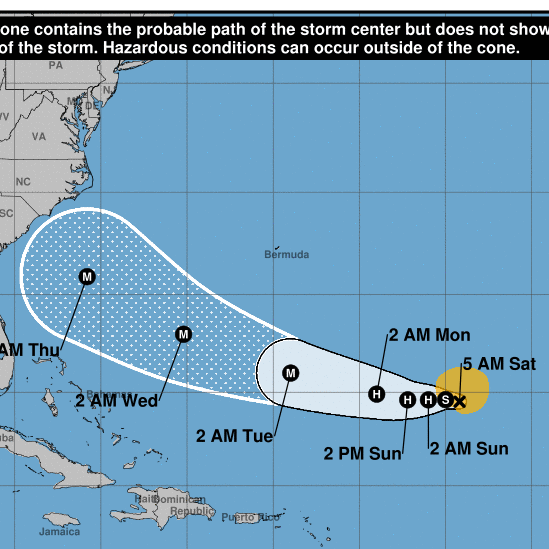 Florence takes aim.
Photo: NOAA
As of early September, the 2018 hurricane season had been calm compared to the frenzy of 2017, in which three major storms — Harvey, Irma, and Maria — wrought havoc in the Caribbean and on the U.S. mainland.
That may be about to change.
Tropical Storm Florence, currently churning across the Atlantic Ocean, is increasingly likely to strike the East Coast in the coming week as a major hurricane. Forecasts show the Carolinas most vulnerable to a direct hit, but there is still plenty of uncertainty about the exact track of the storm, and forecasters say the swath of coastline between Florida and New York City is at risk.
As of Saturday morning, Tropical Storm Florence was moving at nine miles per hour with winds of 60 miles per hour. But it is expected to strengthen in force and speed in the coming days, thanks to warm Atlantic waters, a decrease in wind shear, and a high-pressure system arriving from the Midwest, which is expected to steer Florence west.
On its current track, Florence's winds are forecast to strengthen to 140 miles per hour by Wednesday morning, making it an extremely dangerous Category 4 hurricane. If it does indeed make landfall on the coast, it would most likely arrive on Thursday.
Just a day or two ago, Florence was thought to be very likely to curve out to sea. Of the 79 named storms that have formed within 200 miles of its birthplace in the Atlantic, none have hit the United States. But now, almost all models show Florence taking a very different track from its predecessors.
North Carolina Governor Roy Cooper declared a preemptive state of emergency on Saturday morning.