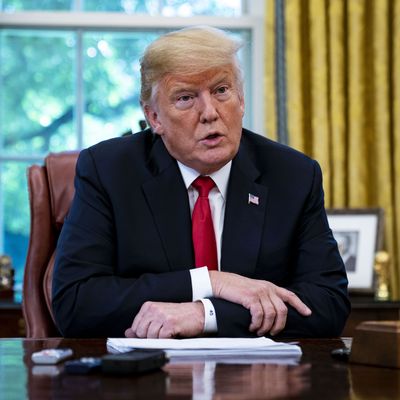 Norms? We don't need no stinkin' norms!
Photo: Al Drago/Bloomberg via Getty Images
President Trump went after eternally-embattled Jeff Sessions with new venom on Monday afternoon, this time for deigning to indict members of his own party just weeks before the midterm elections.
His tweets amount to an endorsement of banana-republic corruption at the Justice Department — rarely charted territory even for a president who doesn't bother pretending to respect separation of powers or other dusty pillars of Democracy.
The two lawmakers Trump is referring to are New York Congressman Chris Collins, who was charged with insider trading in August — he made a possibly incriminating phone call on White House grounds  — and California's Duncan Hunter, who is accused of engaging in an almost comical level of graft over many years, which including disguising personal purchases as benefits to military veterans.
In a huge coincidence, Collins and Hunter were the very first two members of Congress to publicly endorse Trump for president.
Shortly after being indicted, Collins announced he wouldn't run for re-election, a decision that will probably help Republicans' already-solid chances of retaining his seat in a deep-red district. According to the Cook Political Report, both seats are now competitive, but still favored to end up in Republican hands.
If Trump really wants to despair about November, he might want to take a look at the few dozen other seats Democrats have a chance to flip – and then ponder whether his attorney general is responsible for the GOP's dire electoral outlook, or maybe, just maybe himself.