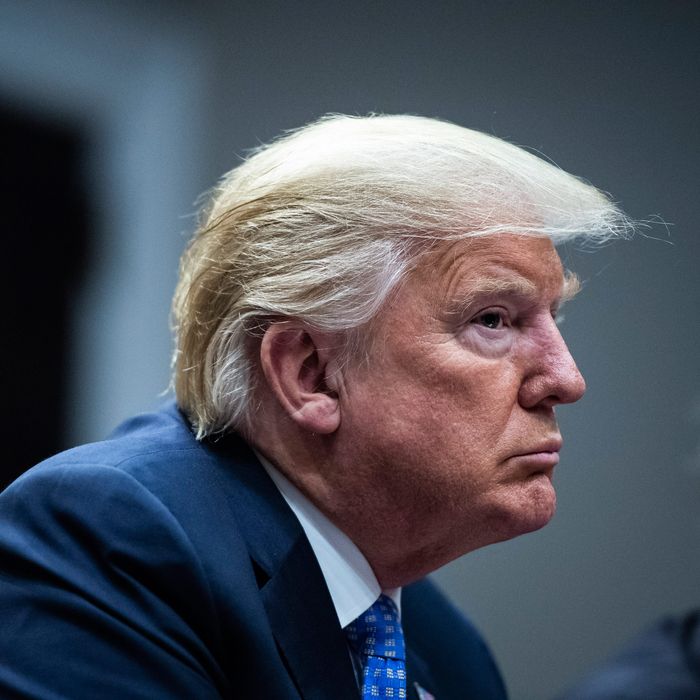 Working hard or hardly working?
Photo: Jabin Botsford/The Washington Post via Getty Images
With most of the political world taking an extended breather before a busy week ahead, President Trump has spent Labor Day weekend engaging in two of his favorite activities: golfing and venting his spleen online.
On Monday morning, he went after Richard Trumka, the president of the AFL-CIO, over an appearance Trumka made on Fox News on Sunday.
In an interview with Chris Wallace, Trumka said, of Trump, "unfortunately, to date, the things that he has done to hurt workers outpace what he's done to help workers." Trumka very reasonably cited Trump's policy to scuttle new overtime benefits for federal workers, his failure to push forward a promised infrastructure plan, and the massive tax cuts for the rich he championed as evidence of his negligence toward everyday workers.
Trumka also said that the reimagined North American Free Trade Agreement Trump has been touting would have to include Canada in order to earn his organization's endorsement.
Last week, Trump announced a preliminary trade agreement with Mexico that would amend NAFTA, a deal the president has long loathed. In recent days, Trump has used the two countries' cooperation as leverage against Canada, threatening to exclude the new mortal enemy of the U.S from the deal altogether if it doesn't agree to the new framework — which includes conditions on auto manufacturing that the U.S. had sought in negotiations.
But neither organized labor nor Congress is on board with his strategy. It's not certain if Trump has the authority to codify a bilateral agreement with Mexico, and multiple Republican lawmakers, already skeptical of the president's trade policies, have indicated Canada needs to be part of a reimagined NAFTA that would need their Congressional approval.
In a reflection of the gravity of the situation, Trump abruptly canceled his golf game to keep negotiating, according to Sarah Huckabee Sanders.
Regardless of the final outcome on NAFTA, the Trump administration is working hard to make working hard less profitable for most Americans. And with Brett Kavanaugh poised to swing the Supreme Court even farther to the right on questions of organized labor, the administration's anti-little guy philosophy will live on long after Trump is gone.
Happy Labor Day!